Photo courtesy of Anthony Mitchell Jr.
Anthony Mitchell says he joined SkillsUSA by "mistake." As an outgoing building trades student at Carl Loftin Career and Technical Center in Columbia, Miss., Mitchell was more interested in having fun than joining a student organization.
Darnell Ramshur, Mitchell's instructor and a SkillsUSA advisor, saw something special in the young man. Ramshur offered to pay Mitchell's SkillsUSA dues for the first year if Mitchell would attend a SkillsUSA barbecue.
"So, I'm like, 'Fair enough,'" Mitchell says. "If I get a chance to eat a free steak and save $10, listen, I'm there."
After the barbecue, Ramshur convinced Mitchell to compete in SkillsUSA Mississippi's regional Job Skill Demonstration. Mitchell wasn't expecting much from the experience, but, once he arrived, he saw things differently. "There were a lot of kids there from other schools," Mitchell says. "And all of a sudden, it's like, 'Hey, you know what? This might be fun after all.'"
In the end, Mitchell said that's all he was really looking for: To have a good time and not mess up. He managed to do both while walking away with a gold medal. Winning gold again at Mississippi's state competition led him to his first National Leadership and Skills Conference. That's when SkillsUSA really started to click for him.
"My mind was blown," Mitchell says. Coming from a small town in Mississippi, Mitchell had no idea there would be students from places like Guam, Puerto Rico and the Virgin Islands also attending the national event. "This was unlike anything I'd ever seen all together at one time."
The experience changed Mitchell's life. Before that first trip to nationals, Mitchell saw little hope for anything outside of his small town. But talking with students from different areas of the country and the world helped shine a new light on new opportunities.
"I'm speaking with a lot of young people from all over the world, and they're telling me about all these opportunities that they've been blessed with," Mitchell says. "It's like, wow, it really opened a world outside of my window."
Mitchell ended up coming back to nationals four more times, winning a silver medal in Prepared Speech in 2005.
But it wasn't just competition alone that motivated him. His participation in nationals really helped him develop a sense of self-worth he hadn't found before.
"That was really a defining moment for me," Mitchell says. "So even now in my professional career, as I'm out and about and I'm talking to different people, just the self-confidence or the self-esteem, my sense of worth that came from the personal development that SkillsUSA allowed me to put into myself … it just gives me a confidence unlike anything else I can quantify."
---
One Idea Changes Many Lives
Mitchell's experience in SkillsUSA helped solidify what his parents had already been teaching him: The importance of giving back to the community.
Both of his parents were in the armed services, so Mitchell experienced a daily example of service that he looked to for inspiration. "The foundation was laid at home," he says.
After graduation, Mitchell gave back to SkillsUSA by helping with state events and working with the SkillsUSA Alumni and Friends Association. Today, he also gives his time to Big Brothers, Habitat for Humanity, the United Way and DECA.
His involvement in his local church congregation — where he served as a youth outreach pastor — also shaped his service ethos. Mitchell met his wife — who was also part of the youth outreach — through his involvement there.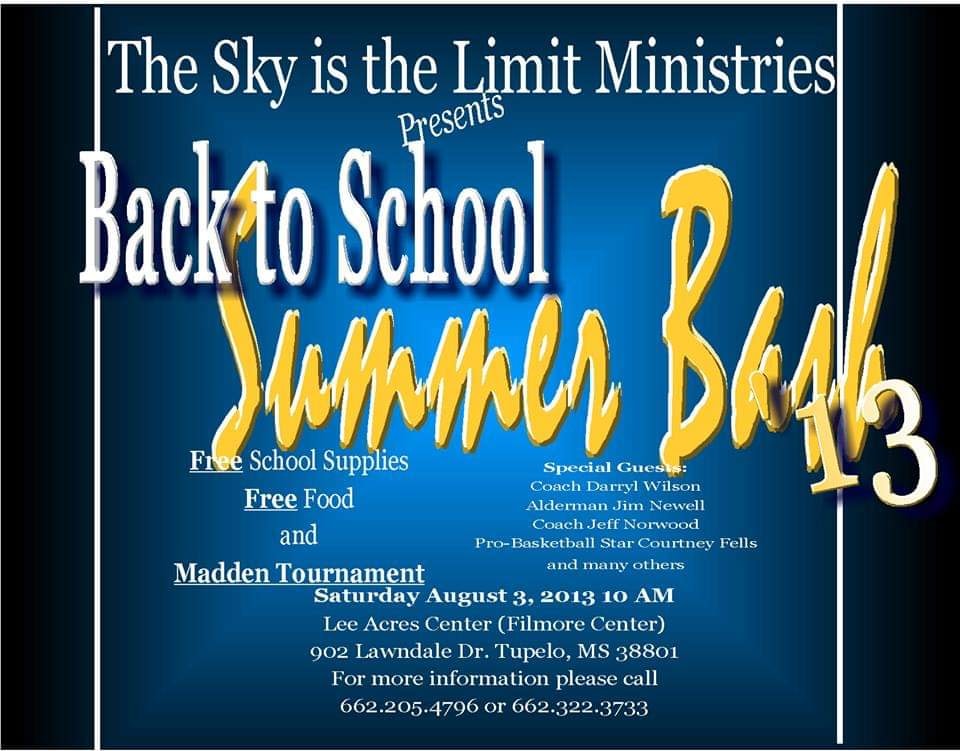 In 2014, the couple moved to Tupelo and developed an idea called the "Back-to-School Summer Bash," a youth event designed to provide backpacks and other essential school items to children in need.
Mitchell was quick to use his professional development skills to approach local businesses for help in filling the backpacks with supplies. That's when the event took on a life of its own.
"There were people as far away as Texas and Missouri that saw what we were doing," Mitchell explains, "and they also came in and donated school supplies. Our church and several local businesses provided supplies, too."
Future years added a job fair to the event to help with local employment needs. When special guests began volunteering to help, the event got even bigger.
"We had speakers from American Family Radio, which is also here in Tupelo," Mitchell says. "Several professional athletes came out, spoke with the kids. We had a couple of officers come out and interact. It became like this encompassing event that's in the community, but it all came from an idea."
Spreading the Ball Around
One day, Mitchell was invited to share with his church congregation the details of the latest community event he had organized with kids, local athletes and coaches. A chance meeting after the service yielded a new opportunity.
Mitchell was approached by a woman whose cousin was Eric Matthews, who had played professional football for the Green Bay Packers. She explained that Matthews, already running his successful "Youth and Mom's Football Camp" in Florida and Georgia, wanted to do something for the community in Mississippi.
Working with Matthews, Mitchell helped bring the camp to his home state, a labor of love he's still involved in. "I'm the event organizer," he says. "I put it together, advertise, raise funds, get rooms, handle media and more."
Through the camp, Matthews and other former pro players run through non-contact football skills with the boys and girls in attendance. But that's just part of the experience. Matthews' four-year NFL career was cut short by a knee injury, and he now uses that experience to emphasize to kids the importance of education.
"The kids interact with these guys," Mitchell explains. "And then, after it's over, they have a mentorship moment where now they're talking about not the importance of sports per se, but more of the reality that you need to get a trade and get education."
The camps have since expanded to include financial literacy classes thanks to a partnership with the Visa Practical Money Skills program. Other topics include character development and how to stop bullying.
The Sky's the Limit
In 2016, Mitchell embarked on a new challenge: serving his country in the Tennessee Air National Guard. "I got a late start." Mitchell jokes, remembering a conversation he had way back in 2005 at SkillsUSA's national conference.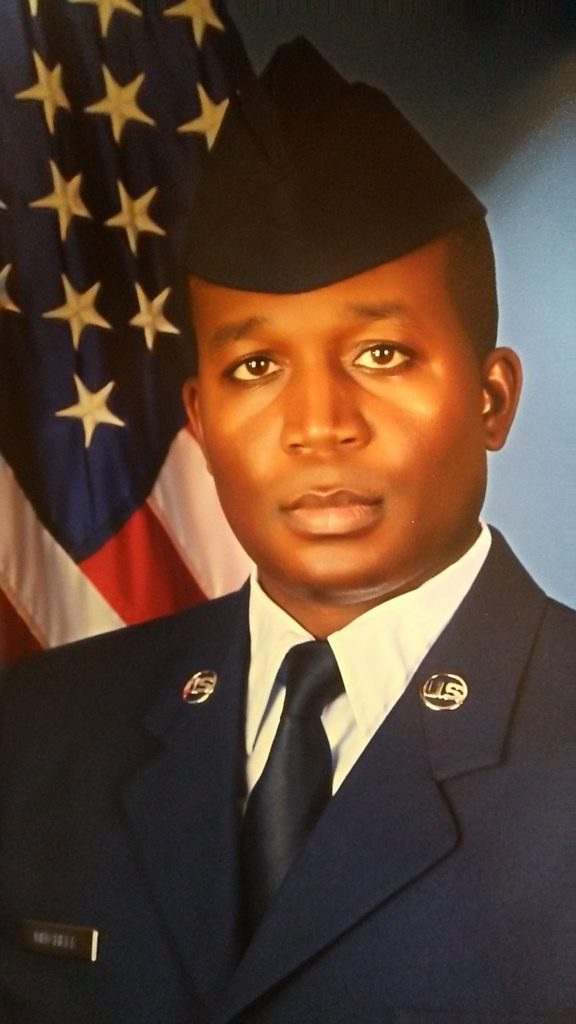 An Army recruiter who heard Mitchell's speech encouraged him to consider the military as a career. "He met me outside. He's like, 'Listen, I'm not giving you any inside information, but from the military side, from the skills that I just saw you exemplify, I think there may be a career there,'" Mitchell says.
While Mitchell didn't take the recruiter up on advice at the time, the idea of serving his country never left his mind. After all, both of his parents were veterans. It seemed almost like a family legacy. After meeting a recruiter from the Air National Guard (ANG) at one of his football camps, Mitchell decided to sign up. Today, he works as an avionics technician (aircraft electronics) in the ANG, attending monthly drills and serving two weeks per year.
When he's not serving the community or his country, Mitchell has a full-time job as a quality assurance technician for Duralast Roofing.
Mitchell, reflecting back on the fact that his original motivation in joining SkillsUSA was to get free steak, often tells people he got involved by "mistake." But he's quick to explain that SkillsUSA was a big part of what shaped him.
"Everything that I've done even now … all of that confidence, all of that passion, that drive started with the confidence I got from SkillsUSA," Mitchell says.
"So I say [I got involved] by mistake, but it's the greatest mistake that's ever happened to me."
On the Web
Listen to the full interview with Anthony Mitchell Jr. on SkillsUSA's podcast, below: