This story originally appeared in the Spring 2007 issue of SkillsUSA Champions magazine with updates in 2016 and 2018. Photo by Chris O'Meara, Associated Press.
"All-around." If there's one phrase to describe University of Michigan freshman Brandon Graham, that's it.
Let's start with the football field. Before graduating from Detroit's Crockett High School, Graham was named a U.S. Army All-American and Gatorade Player of the Year. He became the No. 1 player in the state and the No. 2 player in the nation.
"He listens well, follows directions," explains Robert Williams, one of Graham's high school coaches. "[He] played everything for us. Kicked off the ball, snapped the ball — he would do anything — played offense, defense.
"A lot of it is personality, and he has a great family, too. I know his mom and dad and his grandmother, and they're great people.""My grandmother is most responsible for my success," Graham agrees, "because she has taught me so much."
But it's hard to teach if a student is unwilling to learn, which brings us to the academic field, where Graham has also made his share of big plays. He graduated with a 3.2 grade-point average. Before that, upon joining SkillsUSA as a 10th-grader, he helped lead his Opening and Closing Ceremonies team to first place at three consecutive state competitions.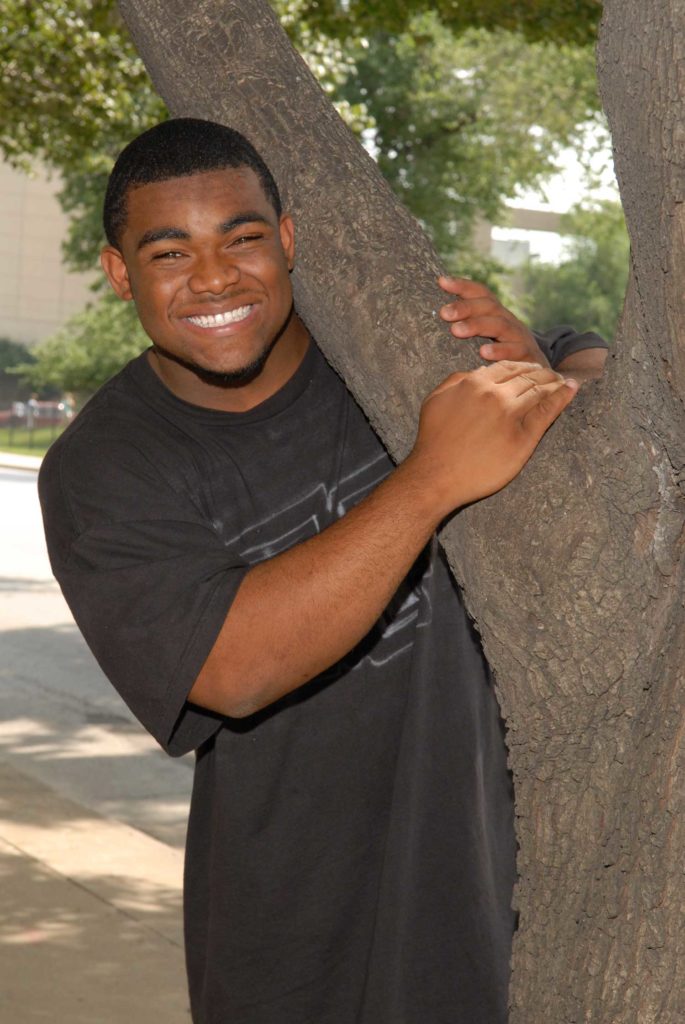 "What a surprise when this popular football player joined the opening and closing team," remembers his main advisor, Rosa Williams. "Brandon took the challenge and took on another type of leadership. His teams placed in the top 10 in the nation for three years in a row."
As Graham sees it, "In the three years I attended the nationals, I learned that you must be professional at all times. I learned to develop my leadership skills by standing in front of people and talking without being too nervous. I improved my communication skills, and that helped both on and off the football field."
But according to his advisor, "Brandon always had a vision for his future, but being a part of SkillsUSA provided him with small avenues of success, which in turn boosted his ego and assured him that he could accomplish his short- and long-term goals. If you believe it, you can achieve it."
And if you believe it, you can also get others to believe it, as evidenced by her ability to motivate new SkillsUSA recruits with boundless enthusiasm and excitement. A nail care instructor and SkillsUSA advisor at Crockett since 1985, Rosa Williams has a perfect attendance record, attributed in part to loving — and believing in — what she does.
"I caught the bug and got excited about the awesome things being done with the students," she says. "I am truly excited to be a part of this great organization. I love SkillsUSA!"
As a design and technology student, Graham remembers attending "this assembly at Crockett where this exciting lady was explaining what SkillsUSA was and how to join the organization. Just by the excitement and passion of Ms. Williams that day, I knew I had to get involved and learn more. She is the most exciting advisor I have ever known. She is excited early in the morning, in the afternoon and in the evening. She coached me and the opening and closing team with excitement at all times."
Graham adds that the leadership skills and professional development he gained as a SkillsUSA member complemented his growing skills on the football field, helping him easily adjust to the myriad roles asked of him by his gridiron coaches.
For example, during his junior year Graham was asked to play as a linebacker, a position he'd never played before. Rather than complain or demand to remain a defensive end, the position he'd been playing, he chose to excel at the new challenge. "I had 132 tackles, 60 solos, five interceptions with three returns," he says proudly of his stats that year.
As his advisor reflects, "Brandon has a level of self-confidence and has the positive attitude toward learning new things. SkillsUSA enhanced his communication, employability and soft skills needed in today's society."
Those skills also helped Graham when it came time to interview for scholarships. As graduation neared, a multitude of interested universities came knocking on his door. After a personal conversation with University of Michigan head coach Lloyd Carr, Graham was offered a full scholarship, and he officially became a Michigan Wolverine.
Asked about the main reason for his decision, Graham responds in typical "all-around" fashion. "The education," he says. "The education is really good, and they have a lot to choose from up there."
Determination and sincerity
Facing new challenges as a first-year college student, Graham is working on degrees in sports management and communications while playing football on a whole new level. He's now back to playing defensive end. Although currently a second-string player while developing his skills, he helped his team make it to the Rose Bowl this year, where they were beaten by the University of Southern California. For now, though, just the experience seems to be enough.
"I am most proud of going to the Rose Bowl my first year," Graham says. "It has been a totally new experience for me."
But that satisfaction doesn't last long.
"My future plans, though, are to move to first string in my sophomore year in college and attend the Rose Bowl again, and this time win."
Rosa Williams has no doubt that he will accomplish that and more. "Brandon's greatest strengths are determination and sincerity. He is determined to achieve any goal and give 100-percent effort to get the job done."
As Graham gears up for another year at Michigan, with the potential ahead for a career in the NFL, he remembers his time in SkillsUSA as a time of great personal growth. In fact, his own excitement about the program has yielded new recruits, just as a teacher's excitement once reached him. His advice?
"I would say to any student that the best thing to do when you enter a career center is ask, 'Who is the SkillsUSA advisor and when can I join?'"
---
Update
Brandon Graham is a defensive end for the Philadelphia Eagles, was a first round draft choice in the 2010 NFL Draft out of University of Michigan, and made second team All-Pro by the Associated Press in 2016.
2018 Update
SkillsUSA days help an eagle learn to soar
It's a moment many kids dream of in backyards and playgrounds every day. (OK, let's be honest: Adults still dream about it, too.) It's that moment when a championship game is on the line, and it all comes down to you.
Current Philadelphia Eagle and former SkillsUSA student Brandon Graham lived that dream on Super Bowl Sunday. The Eagles took a 38-33 lead in the fourth quarter, but more than two minutes left seemed like an eternity for ice-in-his-veins New England Patriots quarterback Tom Brady. Graham's fumble-inducing sack, however, effectively emptied Brady's hourglass, earning the Eagles their first Super Bowl trophy.
Graham and his teammates emerged as champions, but that's a term Graham was already familiar with as a member of SkillsUSA during his last three years as a student at Crockett High School in Detroit. Graham helped lead his chapter's Opening and Closing Ceremonies team to three straight state championships. While the national prize eluded them, Graham revealed in a 2007 interview for this magazine what lessons he learned and how he applied them to his future career in football.
"In the three years I attended the nationals," Graham said, "I learned that you must be professional at all times. I learned to develop my leadership skills by standing in front of people and talking without being too nervous. I improved my communication skills, and that helped both on and off the football field."
At the conclusion of our 2007 interview, Graham, then a sophomore at the University of Michigan, hoped to become a first-string contributor with the Wolverines football team. He ended his college career as the 2009 Big Ten Conference co-MVP winner, became a first-round NFL pick and is now a Super Bowl champion.
In keeping with SkillsUSA's commitment to service, Graham also founded a football camp in Michigan called "Select 100," designed to help young athletes find their own path to success. Part of that path for Graham was SkillsUSA.
"I would say to any student," Graham said while still in college, "that the best thing to do when you enter a career center is ask, 'Who is the SkillsUSA advisor and when can I join?' "