Photo courtesy of Huntsville High School.
A dinosaur family once roamed a private lawn by a well-traveled highway in Arkansas' Madison County. The unique metallic creations belonged to resident Jerry Frederick and his wife Brenda, but they also belonged to the community, as Frederick would often deck out his dinos to celebrate all sorts of holidays and events. The Jurassic clan brought consistent smiles to passing motorists, but, one day last year, the two dinosaur parents (largest and most visible of the group) disappeared. It wasn't a comet or wayward meteor that caused this extinction event, but a theft.
That news sparked welding students from nearby Huntsville High School into action. Led by instructor Jamie Jackson, they decided to use their skills to right a wrong as part of their SkillsUSA Week activities.
SkillsUSA is officially defined as a partnership of students, teachers and industry, and that definition was proven accurate when Jackson and his students teamed up with Derek Hudspeth of Custom Creations, a local welding and metal fabrication business. Hudspeth generously donated the 86 pieces of metal needed for the project, and the students fired up their tools. Three-and-a-half weeks later, after 200 total welds and 35 hours of combined work, the five-feet-tall dinosaur parents lived again.
Welding students Aden McClane, Clayton Hyatt, Brock Lance and Ruger Thomas welded the pieces together to make the dinosaur skeleton. Dakota Copeland and Allen Pierce helped grind down the welds. Several others — including Cayler Sizemore, Blake Myers, Owen Gabbard and Dalton Dobbs — polished the dinosaurs to make the finished product.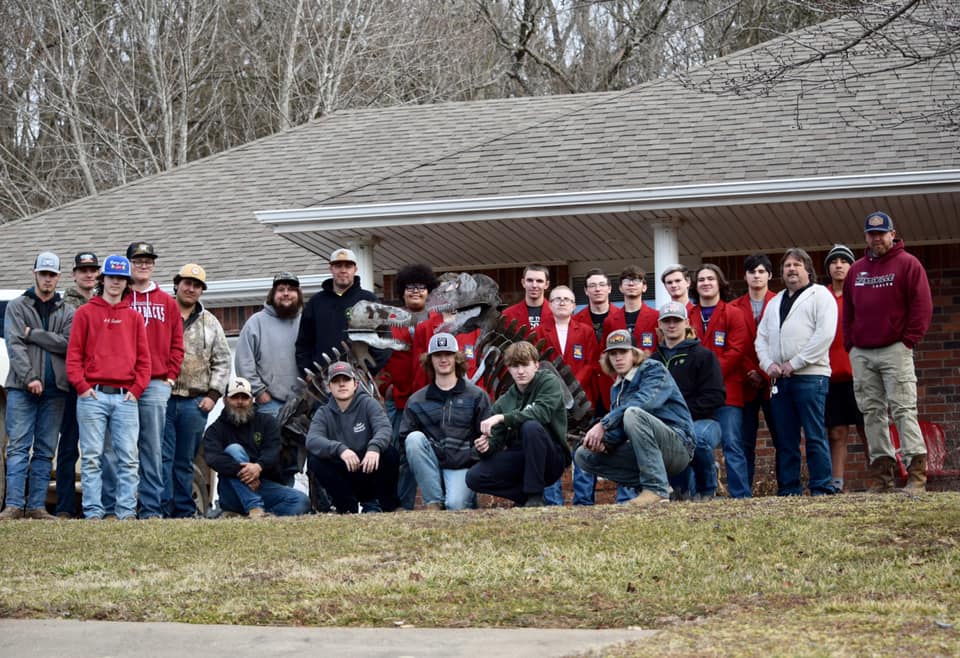 "It was a great learning experience," the welding team says in a joint statement. "It was interesting to see how much our welds improved throughout the project. We were excited to know that our work was going to be seen by the community, as well as helping a family get back what they had lost."
Once the project was complete, it was time for a family reunion. SkillsUSA students grabbed their red blazers and headed out to present the dinosaurs to Frederick, and the orphaned baby dinosaurs happily welcomed two new parents. (Rumor has it they couldn't tell the difference.)
"To say we were surprised is an understatement," says Brenda Frederick. "We live in a wonderful community. These people don't even know us and they did this." Jerry Frederick wasted no time in decorating the dinosaurs for Valentine's Day, and the community noticed immediately.
"I would like to thank these students for restoring my faith in adolescents," writes one community member on the Huntsville High School SkillsUSA chapter's Facebook page (link below). "Those dinosaurs were very symbolic to us for a variety of reasons. I am beyond impressed and extremely grateful for the statement [all involved in this project] made in correcting this attack on our community."
The dinosaurs did leave Frederick's property one more time, this time on a temporary basis, as the Huntsville High School welding team proudly displayed them in a local parade. Now, they're back where they belong and doing what they do best: bringing smiles to members of the local community who just happen to pass by. To read more comments from appreciative community members for this inspiring dinosaur restoration project, check out this Facebook post from the Huntsville High School SkillsUSA Eagle Team.