Photos by Lloyd Wolf.
The SkillsUSA Framework is the foundation for the career-ready skills we help our members build, and it's made up of three separate-but-equal components: Personal Skills, Workplace Skills and Technical Skills Grounded in Academics. Each component is made up of a list of "Essential Elements," which are specific, industry-identified skills that support the main component.
Each spring, as part of SkillsUSA's Chapter Excellence Program (CEP), 24 schools are recognized for exemplifying excellence in the Framework. From those 24, three (each representing one of the three Framework components) are selected as "Models of Excellence" (MOE) chapters at SkillsUSA National Leadership & Skills Conference.
This year, the SkillsUSA chapter at Douglas High School in Arizona was recognized in the Personal Skills category, Lynn Vocational Technical Institute in Massachusetts was recognized for Workplace Skills, and Putnam Career & Technical Center in West Virginia was recognized for their intuitive application of Technical Skills Grounded in Academics.
How did each chapter earn this elite recognition? Let's take a look.
Personal Skills: Douglas High School (SkillsUSA Arizona)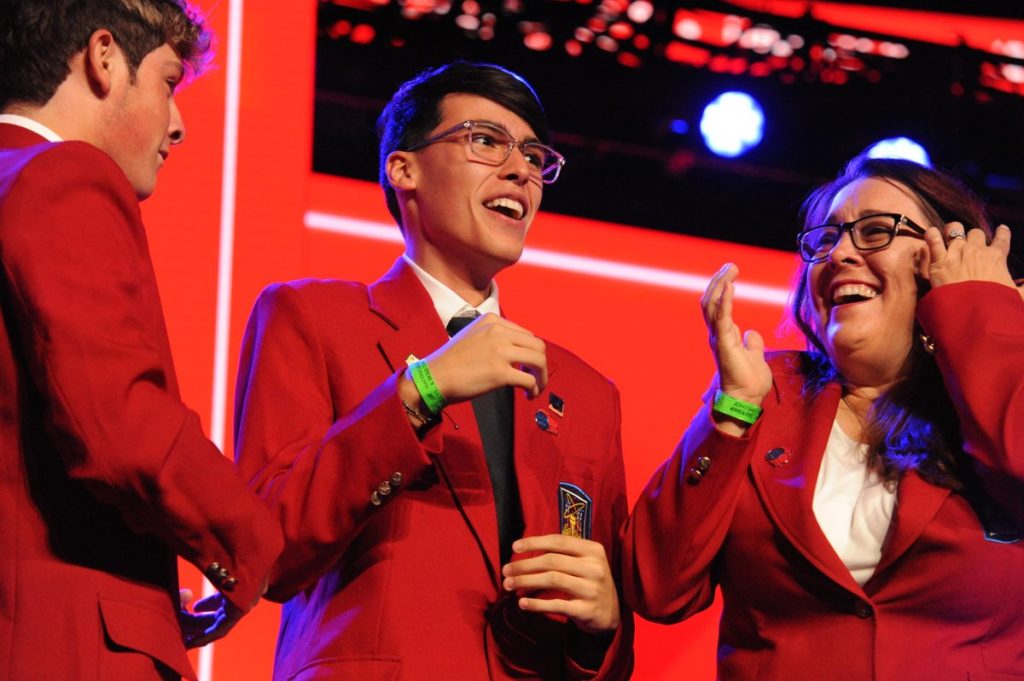 Students at Douglas (Ariz.) High School exhibited their grasp of the Framework Essential Element of responsibility by participating in a local "Trunk or Treat" at their school, an event where vehicle trunks are decorated and filled with candy for kids to put into their Halloween bags while moving from trunk to trunk.
Members were in charge of decorating the trunks, dressing in costume, collecting candy and staffing shifts during a five-hour timeframe. The event was a huge success, with 86 percent of chapter members participating and more than 15,000 pieces of candy handed out to children in the community.
Not only did students take great care in organizing trunk decorations and collecting candy donations, but they shared their enthusiasm with trick-or-treaters during the afternoon and evening of the event. This gave every participating student an appreciation for taking personal responsibility to serve their community. It also created an awareness of the importance of community involvement and being a positive role model for young children.
"Being named the top MOE school in Personal Skills was an indescribable feeling," says advisor Andrea Barallardos. "The hard work of my chapter, the hours of planning and preparing events paid off when I saw my students' reaction. I am beyond proud of them."
Workplace Skills: Lynn Vocational Institute (SkillsUSA Massachusetts)
The Lynn (Mass.) Vocational Technical Institute topped the workplace skills component for the chapter's Social and Emotional Learning Spaces (SELS) initiative, which supplied 50 SELS to 50 elementary classrooms in the community. Focusing on the Framework Essential Element of planning, organization and management, the chapter created SEL stations that included a bookshelf, area rug, and "calm down kits" filled with social and emotional learning toys and gadgets to help de-escalate children's emotions.
Planning started with grant writing to secure project funding from SkillsUSA industry partner Lowe's. Once funding was received, members demonstrated organization and management skills as they addressed timelines, procured materials, collected items for the kits, and coordinated with school principals and teacher participants.
Carpentry students built bookshelves for teachers to creatively design and paint on-site with SkillsUSA members. In a matter of weeks, the chapter successfully delivered the much-appreciated SELS to classrooms.
"The part of the project that made our chapter the proudest was watching it come to life and be put to use," says Lynn student and SkillsUSA member Giselle Vides. "We were so proud that our use of the Framework led to our chapter's project making a difference in classrooms throughout our community."
"What really made our chapter the proudest was how we exceeded our goal on actually making a difference," adds student and SkillsUSA member Saydy Deleon.
"Overall, just reading the emails and feedback the teachers were giving us about how effective the social and emotional learning spaces were for their students was so rewarding and made us so proud and grateful."
Technical Skills Grounded in Academics: Putnam Career & Technical Center (SkillsUSA West Virginia)
SkillsUSA members from Putnam Career & Technical Center (Eleanor, W.Va.) focused on the Framework Essential Element of safety and health to create a "Holiday Cooking Hazards" public service announcement to educate their peers just in time for the holiday season.
Members applied best practices within their restaurant management, fire and emergency medical technician programs to create an informative PSA centered on preventing fires and potential injuries while also outlining industry safety standards when using equipment. Demonstrations were carefully planned and securely performed under the supervision of local fire departments.
"It has been a challenging and rewarding experience, not just for the students, but also the instructors," says Putnam SkillsUSA coordinator Jennifer Bayless. "Our instruction was much more intentional, and the students got a deeper understanding of every aspect of the project. They were full participants, not just spectators, which made it even more meaningful for them."
Students exhibited proper use of cooking equipment, ensured observers were at a safe distance and selected students to perform demos based on rubric-graded skill sets. The chapter published its PSA on social media prior to Thanksgiving, earning 56,000 views in one week.
SkillsUSA recognizes all of our 24 finalists — along with our top three MOE designees — for their inspiring work in demonstrating the transformative power of the SkillsUSA Framework and how its application can benefit not just an individual, but an entire community.
Learn more about the Chapter Excellence Program and the SkillsUSA Framework on our website.