Photo courtesy of Peter Wachtel. Used with permission.
When advisor Peter Wachtel received a 2019 Harbor Freight Tools for Schools Prize for Teaching Excellence and a $50,0000 cash award for his school, he set to work overhauling Adolfo Camarillo (Calif.) High School's career and technical education programs with new technology that would foster his students' creativity. Little did he know that same technology would prepare his students to adapt and thrive in the virtual environments they would be unexpectedly plunged into by the COVID-19 pandemic. What helped them thrive even more was Wachtel's resilient distance-learning approach that helped turn pandemic-related challenges into opportunities to improve and evolve. In his own words, Wachtel shares that approach and lessons learned along the way, stressing that, "In a world of limitations, there is a universe of possibilities and opportunities."
by Peter Wachtel, SkillsUSA Advisor
For both teachers and students, 2020 was a long and difficult journey. We all had to master distance learning, apply new technology and reach way outside of our comfort zones. However, with a little imagination, career and technical education (CTE) has thrived during the global pandemic, and I feel my students have actually benefitted; we are seeing some light at the end of the tunnel that hopefully isn't another train on the tracks. Here are some things our school did in 2020 that may help other teachers and students going forward.
First and foremost, in spite of it all (and there has been a lot to deal with in the past year), we've kept going. I believe strongly that whether we are learning in person or online, CTE can benefit every student. What my students love about my architecture program and my product innovation design program at Adolfo Camarillo High School (Calif.) is that they learn how to be more creative and to think out of the box.
In my programs, we strive to show how the skills we are learning can be applied not just to skilled trades occupations, but also to college or any other career. An automotive class can turn a student into a mechanic or a car designer, an electricity class could launch a career as an electrician or an engineer, and wood shop and architecture classes might foster a future builder or a future designer. All students love working with their hands as well as their minds. Whether my students go into blue collar or white collar work, they are learning to solve problems and to apply a diligent work ethic. With their own spin, they can each create things that never existed before.
Collaboration is the Key
I have really missed seeing my students in person, and some of my students may even have missed their teacher. We have a lot of diversity in my classroom, just like we do in the real world. I have over 100 students in three class periods in grades 9 through 12, students of every ethnic background and with GPAs ranging from 1.0 to 4.5. Each student brings different skills to share. Some are high achievers, others are gifted learners, and still others are creative thinkers. We strive to tailor every project to each individual student's needs and goals.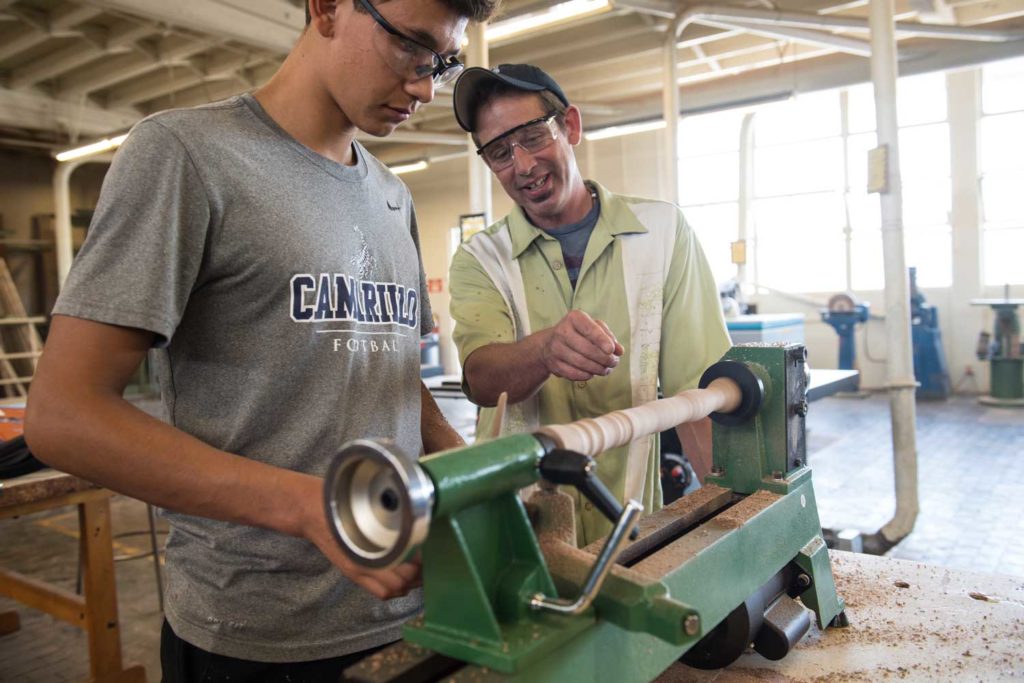 The key is collaboration. We align CTE and the real world with academics, asking students to take what they learn in every class and find new ways to apply it. Whether teaching math, English or history, we make the subject matter relevant and demonstrate that what students learn now will help prepare them for their futures. We help students become rock stars in learning so they feel a sense of pride, and that can be contagious. In spite of the challenges (or maybe because of the added challenges), my students have grown so much this year.
An Industry Partnership Pays Off
Last school year began like any other. Then came March 17, 2020, and everything changed. Starting that day, teachers had to re-learn how to teach, and students had to re-learn how to learn. In addition to learning virtually, we were suddenly dealing with many different issues that came along with doing so: computer issues, Zoom calls that crash, student procrastination, lack of motivation, lack of interaction and isolation, family issues, mental health issues and more.
Fortunately, my program had a very strong start to distance learning in 2020 thanks to an industry partner I've worked with for some time. Harbor Freight Tools for Schools donated over 100 free "Strong Start Toolkits" to my students. In 2019, I won a Harbor Freight Tools for Schools Prize for Teaching Excellence, and the $50,000 cash award helped us buy new technology for the CTE programs, including 3D printers, a CNC machine, a laser machine, a vacuum form machine, tools and more.  Students can design their projects with an online engineering program and 3D print them, or they can build projects by hand. I love that my students can be themselves, think, explore, design, build and create things that never existed before — even from home.
We make our CTE classes intriguing with value, rigor and relevance. We give students options with state-of-the-art skills and the experience to solve real-world problems with work-based, project-based and passion-based learning through the community. The product innovation pathway gives students the opportunity to express their creativity by designing projects using real-world tools and technologies. Students will learn to think as designers through project-based learning, presentations, discussions and critiques. This course incorporates the full power of "STEAM": a cross-curriculum collaboration between science, technology, engineering, art and mathematics. Students use and learn various 3D computer programs, tools, and machines for designing, rendering, inventing, model-making, CAD, 3D printing or modeling, lasers, manufacturing, and development. This integrated, immersive, multi-year sequence of career guidance, coursework and work-based learning gives students knowledge and experiences that provide a competitive advantage going forward — no matter what their path.
Expand Your Curriculum by Reaching Out
I have found a number of ways to connect the dots for students between school and careers. We reach out to both local and national colleges for scholarships for our students. We also partner with local and national businesses on projects outside the classroom. This organically evolves into school visits, industry tours, internships, mentorships and externships. These experiences last a lifetime and have no expiration date. Student collaborations provide direct interaction and foster better collaboration and teamwork skills. We offer work-based learning projects with companies such as Ford (Fordzilla virtual racing), and my students have designed real-world projects for Six Flags Magic Mountain, Universal Studios, Mattel, Santa Barbara Zoo, Tree House Masters, KidSTREAM Museum and Harbor Freight Tools through the SkillsUSA program. I try to make these projects real-world and relevant with guest speakers from colleges and businesses such as Pratt Institute, Columbus College of Art and Design, the Carpenters Union, Tinkercad and Makerbot. The goal is for my students to see potential career options as they meet people, share experiences and master critical thinking skills. The more students engage deeply in the design-thinking process, the more motivated and engaged they become.
Our students also operate a business. This is an online store for custom products, including pocket document cameras for teachers and students that allow them to use a mirror and 3D-printed materials to show work or demonstrate concepts over Zoom. Students are able to design and collaborate with students in other programs on multiple products from design to build. In four years, my students have built over 100 custom products and raised over $20,000.
We have articulated over 100 students to date with four colleges, written more than 50 letters of recommendation, documented over 150 OSHA certifications and awarded 10 scholarships funded by Harbor Freight Tools for Schools. We took an outdated wood shop program and rewrote it with 21st century skills and experiences. We keep innovating and inspire our students to do the same.
Learning Moments: Our Pedagogy
Here are a few key learnings from this past year. The primary teaching technique that we use is imagination. We tell and show students that everything around them is worthy of exploration.
Minimize rote learning and focus on teaching students how to think. Critical thinking skills are essential in every career path.
Establish a culture of creativity. I share what I taught at the college level and my experiences in the design industry. This helps students have an understanding of how their high school learning can roll forward into their college and career experiences.
Work with other teachers, parents and community members to help develop the goals and the skills needed. Pursue success through constant collaboration.
Teach students to make their passion for what they love to do part of their life; the skills, experience and wisdom will come in time.
Evaluate students not just by what they were are asked to do, but by what they learned and by what they did for themselves.
Get to know your students: how they think, work, play, their needs and goals. This makes it easier to tailor projects to each student.
Every student will love being able to design a project that they are passionate about. Not all students are the same, so not all projects will be the same.
I tell my students, just as my dad told me, there will always be someone bigger, faster and stronger than you, although not all at the same time. So just do your best in everything.
It is incredibly exciting as a teacher to see students succeed, some for the first time ever.
As your students finish each project, take time to evaluate them and discuss what was learned and how it can be applied.
When students excel, you will see the smiles on their faces. Students grow and light up right in front of you, even on Zoom.
My teaching philosophy is centered on the fact that learning is a continuous and evolving cycle: to draw is to look, to look is to see, to see is to have vision, to have vision is to understand, to understand is to know, to know is to become and to become is to live. As a teacher, 2020 challenged me just as it challenged my students. I would like to think I will be a better teacher for the experiences of the past year. To view a sampling of projects that my architecture, product innovation and design students created via distance learning in 2020, go to: www.coroflot.com/kidtoyology/ACHS-Student-Portfolio-n-Works.
Follow us on Twitter: @KidToyology.
Peter Wachtel teaches architecture and product innovation design at Adolfo Camarillo High School in Camarillo, Calif. He was a 2019 winner of the Harbor Freight Tools for Schools Teaching Excellence Prize. Wachtel, teaching after a 30-year career in the toy industry, is the former president of the Southern California Toy Association, a published author of two books on toys and has been a toy and product designer/director at companies such as Marvel. Wachtel also taught design at the college level at Massachusetts Institute of Technology, Pratt Institute, Parsons School of Design and Otis College of Art and Design for more than 20 years.