Photo courtesy of William Gorham. Used with permission.
As the executive chef for Rocky Mount (N.C.) Event Center, William Gorham, now 46, leads a team of 24 employees — including chefs, concession staff, and kitchen staff — to prepare meals and cater large events. His interest in cooking, however, was sparked as a child when he visited his grandmother's farm every summer in Warsaw, N.C. "My grandmother raised chickens and grew her own vegetables. She could put a good tasting meal together from what was available," Gorham recalls. "We didn't have money to go to the grocery store every weekend, but we always had good food on the table. What I find most interesting about cooking today is that I'm now able to come up with a good-tasting dish using just what is available."
Gorham claims to have had "a good childhood" until the age of 13; that's when he made the unfortunate decision to start drinking so he could "keep up" with his peers. After that point, he says, "the interesting memories of childhood fade away." At 16, Gorham quit high school to work as a dish washer in a local restaurant, and thus began a career in the culinary industry that seesawed from position to position — sauté cook, assistant kitchen manager, sous chef, lead cook — until Gorham hit 40.
By then, Gorham had a wife and family … as well as brushes with the law. Yes, he was getting by in a field he loved, but he knew he was far from reaching his full potential. In fact, a huge obstacle stood in his way. "I was a functional alcoholic," he explains. "There was no way I could go a day without alcohol. I struggled with substance abuse and wasted 20 years of my life. I was not a good husband or father."
Finding New Ingredients
Things took a darker turn in 2016 when Gorham's son was diagnosed with leukemia. "I had been on a downward spiral and was about to go to prison for a probation violation," he says. "When Isaiah got sick, I had a wake-up call, and I realized it was time for a change. As my son was fighting cancer, I too was suffering from the disease of alcoholism, and I knew I had to get better to help my son."
It was then that Gorham's wife and his friends at church urged him to pursue an education, starting with a reignited pursuit of the high school diploma he'd once abandoned. Feeling divinely inspired, Gorham agreed and enrolled at Nash Community College (NCC) in Rocky Mount for what he thought would be just one class to obtain his GED. Instead, his instructor-to-be — David Strickland — convinced him to join the school's inaugural "boot camp," a five-week course covering social studies, reading, writing, science, and math to prepare students for successful completion of the high school equivalency examinations.
"It was difficult to learn how to learn and discipline myself to study after so many years," Gorham admits. "I had to really concentrate and train myself to study hard. When the teacher would write something down, I would write it down and then when I got home, I would write it all down again in another notebook."
At NCC, Gorham found many friends and advocates who were inspired by his relentless determination and positive attitude. In fact, before he'd even graduated himself, Gorham was selected as the student speaker for the college's 50th anniversary graduation ceremony. "I will not stop until I receive that degree," he told the graduates.
Gorham earned his high school equivalency diploma in 2018, but NCC transition coordinator Wil van der Meulen recognized so much more potential in this late bloomer. Van der Meulen convinced Gorham to join SkillsUSA and enroll in NCC's Culinary Arts degree program. "Because of William's drive and determination, I knew this would be a 'Cinderfella' story," van der Meulen explains. "He is our poster guy for high school equivalency. I come to work every day because of students like him."
Because NCC encourages career-readiness skills as well as technical skills, their programs have a SkillsUSA Framework crosswalk. "Being in SkillsUSA was an important part of my developmental change," Gorham says. "Through the competitions, SkillsUSA helped me develop my confidence as a chef. In the classroom, the SkillsUSA Framework helped me understand what it means to be a good employee."
Now He's Cookin'
Emboldened by a fresh sense of confidence and purpose, Gorham excelled. In fact, he was chosen to represent NCC's culinary program in the North Carolina SkillsUSA Championships by his culinary instructor and SkillsUSA advisor, Chef Carlo Quagliaroli. "To be selected to compete on behalf of NCC's culinary program gave me a great deal of deal of confidence," Gorham recalls. "That someone saw something in me that was good enough to represent NCC made me proud."
Remembering the competition, Gorham says, "To be a contestant was very different and challenging. There were 10-12 contestants all using an eight-burner stove and a small grill, and we had to take turns, which was something new for me." Gorham also remembers that the menu he was asked to prepare included mushrooms. "I'm allergic to mushrooms," he admits. "I knew once I added mushrooms to the recipe, I wouldn't be able to taste it. So, I used a trick I learned in culinary school — I prepared the dish and then added the mushrooms at the end. That is why I was surprised that I placed in the competition. I had no idea how it really tasted with the mushrooms added."
Gorham placed fifth in the Culinary Arts competition was called to the stage to be recognized. "I was thrilled to place," he says. "It did not matter to me that I came in fifth place, because I shared the stage with the best in the state, and that meant I was also a winner."
Gorham's SkillsUSA program also served him up the opportunity to work as an intern alongside culinary instructor Chef Frank Bookhardt. "I've known William a long time," Bookhardt says. "His leadership skills and positive outlook are on par with his prodigious culinary skills. He is a force of nature in the kitchen and a great guy just to be around. He believes in lifting others up rather than holding them down and is going to be an asset and a leader wherever he goes. I'm proud of his work and even more proud to know him as a person."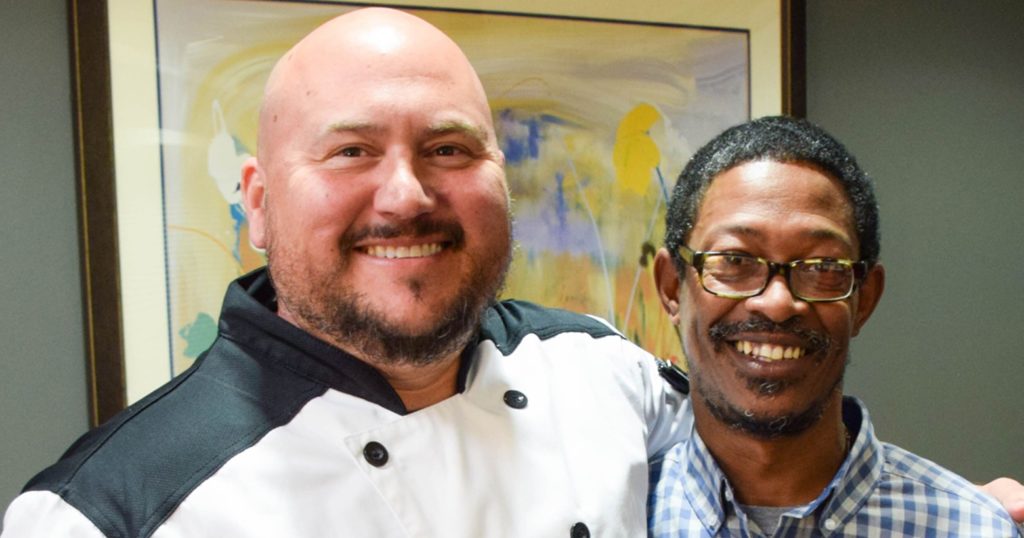 By time he completed his associate in applied science degree in 2019, Gorham had earned certificates in Baking, Advanced Catering for Entertaining, Hospitality Management/Catering Management and Essential Culinary Skills. This wealth of new flavors in his skillset — combined with his coming-to-a-boil leadership skills — led to a smooth transition into a full-time position as concession manager at the Rocky Mount Event Center under the direction of celebrity chef Jerome Brown. When Brown left, Gorham stepped into the executive chef role he holds today.
Savoring Success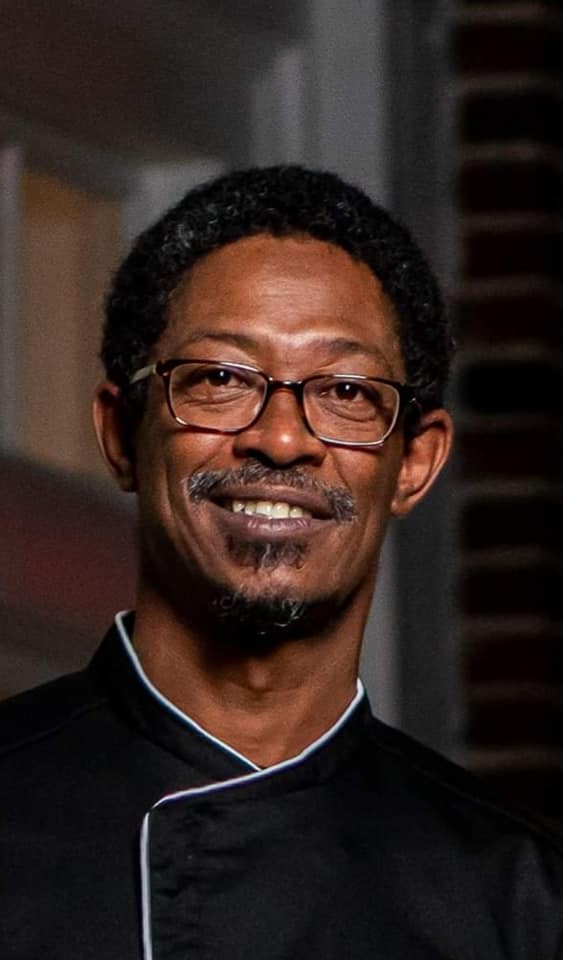 "It took a lot of sacrifice and soul-searching to get from where I began to where I am today," Gorham says. "Along this journey, I have learned a lot. I learned that before I could be the best student I could be, the best father to my children, and the best husband to my wife, I first needed to get myself together and work on becoming the best man I could be."
Gorham says his family and deep faith were his main motivations for refocusing his life, one that's now offering a far better ratio of sweet vs. sour. In fact, after a brave fight, Isaiah's cancer is in remission. As this article was being written, however, Gorham revealed he was struggling with a cancer diagnosis of his own. Thankfully, after undergoing successful surgery, he's been informed he will not need chemotherapy or radiation, and his prognosis is excellent. Thanks in part to a committed group of instructors and opportunities that only SkillsUSA could provide, so is his new outlook on life.
"Having turned my life around gives me pride," Gorham reflects. "It feels good to contribute to my home, to share in the responsibilities with my wife. I am right where I want to be in life. I am grateful to NCC and SkillsUSA for helping me reach my potential as an individual, and I am thankful to all those that helped me in my darkest hours."