Scott Regional Technical Center (Mo.) graduate Greg Huse (right) with his wife Tameka Huse and children Elijah and Alivia.
Career and technical educators are thrilled when their graduates go on to do great things. They are beyond thrilled when their graduates pay it forward by donating back to the school that helped them find career success. Anessa Garner-Ash — a SkillsUSA advisor and instructor at Scott Regional Technical Center in Monet, Mo. — recently experienced such a moment when former student Greg Huse made a surprising six-figure donation to her school.
"Greg was a student in my business/multimedia class in 2007," says Garner-Ash, who's also the school's career services coordinator. "He was polite, courteous and funny, yet a little on the ornery side, but that made him fun to have in class." Huse was a SkillsUSA class representative and served as a local officer. According to Garner-Ash, he was "eager to do anything asked of him and go the extra mile. Greg is the epitome of hard work, perseverance and just plain old grit."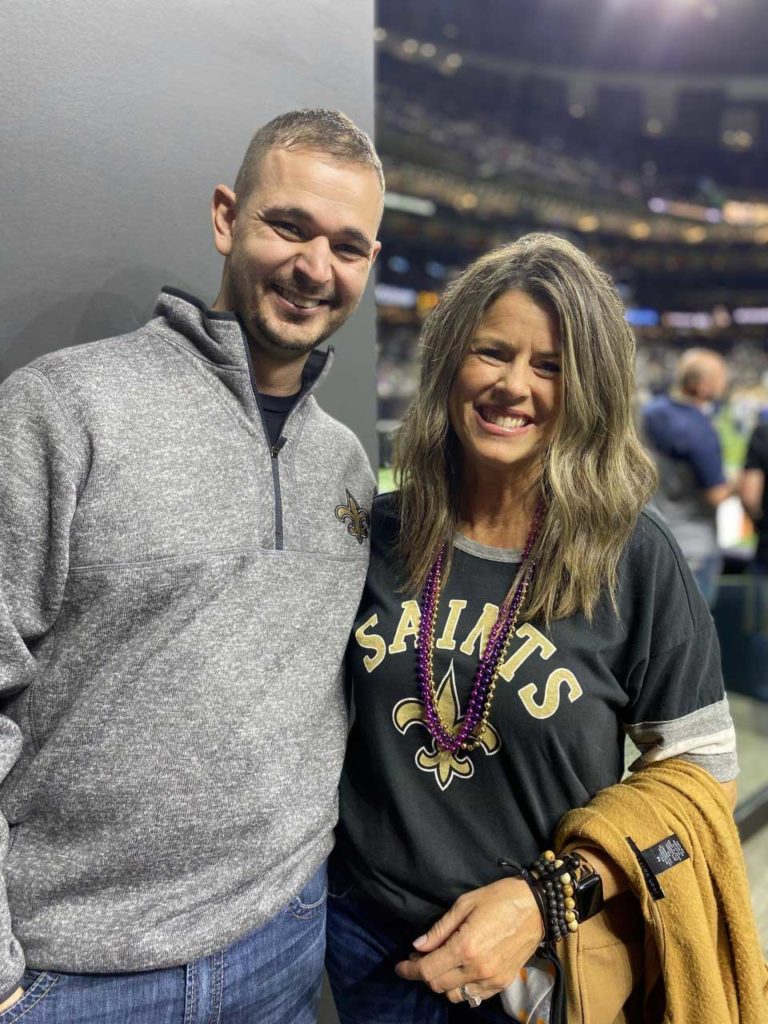 After high school, Huse began an eight-year stint in the U.S. Army, where he became a logistics specialist. He also studied personal finance and accounting at Missouri Southern State University and began a career in energy performing daily maintenance on powerlines. Eventually, Huse joined Tempest Energy as a project manager and worked his way up to chief operations officer by 2019. Knowing that much of his success came from the lessons he learned at Scott Tech, Huse felt compelled to give back. "This school and SkillsUSA, along with my family and military career, are the reasons for any success obtained in my lifetime," he says, "and all the credit goes to them."
After some heartfelt discussions, Huse and his wife Tameka decided to make that appreciation clear with a donation to Scott Tech that, in the words of Garner-Ash, "overwhelmed our hearts with gratitude." Huse had the opportunity to explain the reasons behind the donation face-to-face when Garner-Ash and her colleagues were attending the Association for Career and Technical Education's "Vision 2021" conference in New Orleans. Huse invited the group to be his guests in a suite at the Caesars Superdome to watch the New Orleans Saints play the Dallas Cowboys. "Thank you for being a part of instilling hard work and dedication that play into who I am today," Huse told the staff during the visit. "It is a pleasure to give back to a great program that I know will help a lot of youth reach their purpose and potential in life."
The donation will support the school's "3-E Scholarship," which supports the concept that all students leave Scott Tech either enrolled in postsecondary learning, enlisted in military service, or employed in a career that facilitates a positive future. The school's SkillsUSA student leadership team was also excited to learn that the funds would be used to provide them with new official SkillsUSA attire.
"Greg and Tameka blessed Scott Tech with a generous donation," says Garner-Ash, "and I am humbled to have been part of this young man's journey. I can't thank him enough for the impact he is about to have on the youth of our community." Garner-Ash cites Angela Duckworth, CEO of Character Lab, who says, "As much as talent counts, effort counts twice." Garner-Ash says Huse is a great example of this concept, because he not only mastered skills to serve his own life but went further to benefit the lives of others.
"This donation is something my wife and I have never done before, and we don't want attention on ourselves," Huse says. "The young adults that this donation will reach is more than enough appreciation to us. I hope one day a student can look back on their experiences like I have and know it made a huge difference and contributed to their success."