Photo courtesy of Earl Read.
Ashley Klingberg never really planned to even compete in SkillsUSA, much less win gold at states and silver at the 2021 SkillsUSA Championships. More surprising to her than winning those medals was the fact that she'd competed in Criminal Justice. After all, Klingberg "wasn't very fond of cops," a negative attitude she brought with her to Rhode Island when she moved there as an eighth grader, part of her family's plan to escape a tough background in Chicago. "A lot of my friends didn't like the police either," she admits.
Klingberg also didn't like the first high school she experienced in Rhode Island. "I wasn't fitting in well," she says. Klingberg was given the option to transfer to Coventry High with the understanding that she'd have to take a career and technical education (CTE) course.
Originally, Klingberg planned to join the Culinary Arts program, but when she learned the course was full, her brother suggested she try Criminal Justice instead. Her first response was, "You're funny. I'm not doing that."
Despite her initial reaction, she trusted her brother enough to give the class a try, but she had second thoughts about the class almost immediately. "My teacher, Mr. [Earl] Read, introduced himself, and I was like, 'Oh, no, I've gotta get out of here!'"
Read says he noticed her attitude toward him and the class right off the bat. "She was very non-engaged," he says. "She didn't really want to speak that much and really wouldn't give much participation or anything."
Chipping Away at the Shell
No matter what Read tried, Klingberg simply refused to participate or respond beyond a couple of words. "I couldn't get him to leave me alone," she says. "I'd mouth off to him or I wouldn't participate. He would call on me to answer a question and I would just say 'I don't know' to everything."
Read didn't give up. "I continued to try and pick at her and pry at that shell to see if I could get her to crack and open up and see what was going on," he says.
A turning point came over winter break when Klingberg was visiting some old friends back in Chicago. "They all did some drugs," she explains. One of the girls lost consciousness.
"I didn't know what an overdose looked like, never saw it," she explains, "so I was just kind of smacking my friend in the face, like trying to wake her up." Fortunately, her friend did wake up, and in that moment, so did Klingberg.
"I made it clear to myself that I didn't want to be that person anymore."
Returning to Coventry, she began to study and work at her classes more earnestly. Even her Criminal Justice class.
Mr. Read noticed the change in her right away. "I started to see a transformation in her and her attitude, behavior and participation," he remembers. "Not only in my class, but in the whole school."
Read played a part in that transformation. Despite Klingberg's initial reluctance to engage with him or the class, he never gave up trying to reach her. Klingberg noticed and was eventually grateful for his persistence.
Today, she says, "I couldn't repay him for all the times he's picked me up or been there for me or helped me through really tough and challenging parts of my life," adding that she sees him as a father figure.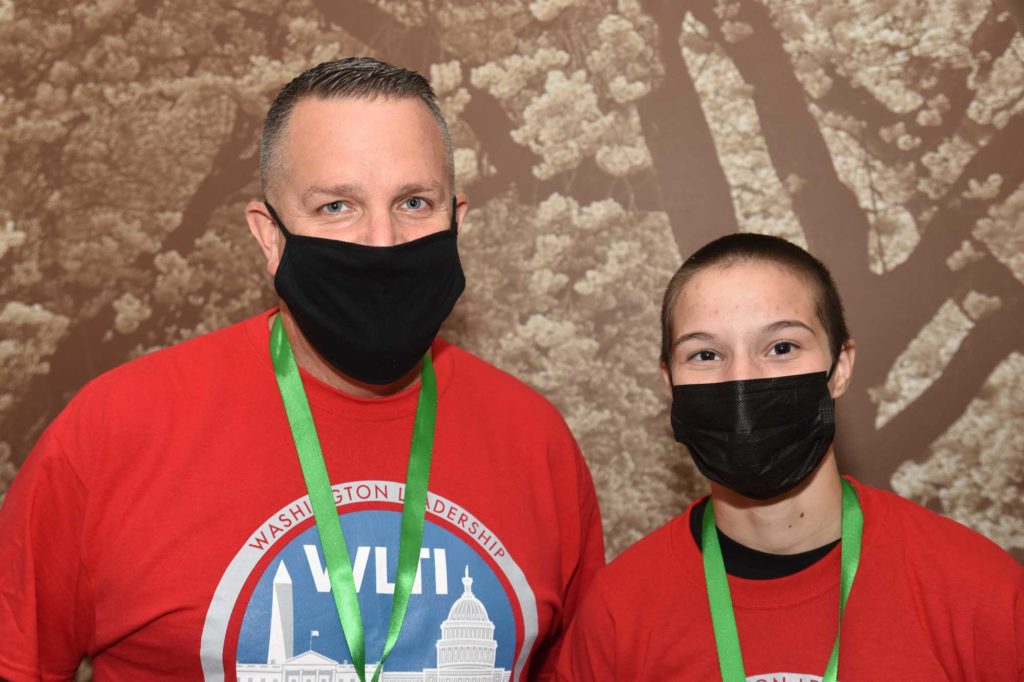 World-Class Athlete
Klingberg's newfound focus in school and SkillsUSA led her down new paths she'd never imagined she'd be taking, from gaining public speaking experience to serving as secretary on the executive board of her SkillsUSA chapter.
While she'd embraced a new journey, her passion to succeed was nothing new at all. She'd been demonstrating that commitment in a variety of athletic pursuits since she was seven. That's when her grandmother enrolled Klingberg's older brother in a judo class to help channel some of his aggression in a constructive way. Klingberg remembers sitting at the side of the mat watching her brother, and she remembers thinking, "I want to do this, too."
She's since earned a number-one ranking in the nation four times, made the Pan American judo team in 2015, won the bronze medal in the women's division in Cordoba, Argentina, and served as a member of the Judo World Team in 2019. Klingberg has traveled to Japan, France, Argentina, Morocco, and England for judo camps and competitions.
In addition to judo, She began wrestling on the boys' team when she was in seventh grade because she needed to "stay in shape during the off season from judo" and wanted something that was a more of a challenge. "I ended up getting like kind of too good [in judo] for my area, and I needed something that was going to be more competitive," Klingberg explains.
By the time she was in her sophomore year at Coventry, she'd notched a 15-6 record on the boys' wrestling team and earned fifth place in the junior varsity state competition out of 20 wrestlers.
Klingberg also competes at a high level in softball, where she plays for both the school and travel teams. Her favorite thing about softball? "I just like to create chaos, I'm not gonna lie," she laughs. "I'm a catcher, and I like throwing people out," she clarifies. "I like trying to pick people off. I like the impossible plays that I make possible."
With such vast experience in competition, competing in SkillsUSA was a natural fit, and Klingberg remembers bringing that same level of preparation to the prepared speech contest that ultimately earned her the executive board secretary role. "I practiced for like 19 days straight with my friend," she recalls. "It's just natural now."
In addition to the medals she won in 2021, Klingberg won a bronze medal in the 2022 SkillsUSA Rhode Island State Championships. Her experience, however, has taught her that you don't necessarily have to take first place to get a lot out of a competitive experience. "I've had a lot of kids in my school that come up to me and be like, 'Dude, I'm so nervous for this. I'm worried. What if I mess up?' And I'm like, 'Okay. What if you do mess up?' If you don't then you're not learning and you're not getting better, you know?"
Eyes on the Prize
Klingberg is graduating from high school this year. She's currently in an internship with the Rhode Island Department of Environmental Management. "It's pretty much like everything a cop does plus the environmental side of it," she explains.
She has been offered multiple scholarships in athletics from various colleges, but, for now, she's planning to stay local. "I think I'm just going to go to community college. Do two years, get an associate's degree, and then try and get on a police department out here," she says. She also signed up as a recruit for the National Guard.
Her advice for students considering a CTE course and SkillsUSA? "Get out of your comfort zone," she says.
"Even if you have just the slightest bit of interest, take the class. Because if you don't like it, you can always switch out. If you do like it, then wow, you just found a passion! You just found something that you want to do, potentially for the rest of your life."
Mr. Read agrees. "SkillsUSA is an amazing opportunity for students to not only compete, but to learn leadership skills and leadership traits and characteristics," he says.
That certainly holds true for Klingberg. For example, the leadership skills she's learned as executive board secretary alone fit right alongside the criminal justice skills she's also developing. "I make sure everybody's coming to the meetings, everybody gets a chance to be heard, give ideas and opinions," she says of the role. "Just make sure everybody's good and things are running smooth."
"Smooth" would describe the current state of the once rough relationship between Klingberg and Read. What's her favorite thing about him? "He does not give up on anything," she says.
The girl who once "didn't like cops" is now planning to become one. In fact, it was a simple question from Read shortly before the incident with Klingberger's friend that planted the seeds for the change to come. "One day, he asked, 'How are you?'" Klingberger remembers. "I'm like, 'I'm good,' and he said, 'No, really, how are you?' Such a simple question, but nobody ever really … I didn't feel like people really cared. I couldn't say anything in the moment, and he said, 'You hangin' in there at least?' and I said, 'Yeah,' and he said, 'Keep the faith, kid, we're all in it together.'"
On the Web
SkillsUSA Podcast Interview with Ashley Klingberg