Photo by Lloyd Wolf.
It was big. It was beautiful. It was awesome.
From June 20-24 in Atlanta, SkillsUSA celebrated its return to an in-person National Leadership & Skills Conference (NLSC), the first since 2019. (Because of the pandemic, the NLSC was canceled in 2020 and held virtually in 2021.) The event also marked the first time Atlanta hosted the conference since 1981. Official registration reached 13,664, with an estimated economic impact to Atlanta of nearly $20 million.
The NLSC welcomed a host of VIPs, including U.S. Secretary of Education Miguel Cardona, who met with students and advisors on Tuesday afternoon and spoke at the Opening Session on Tuesday night. "If we want to build an economy that works for all Americans, we must create more pathways to high-paying jobs," Cardona said. "That means helping more students experience the magicof career and technical education."
Chelle Travis delivered her first official in-person address to an NLSC audience as SkillsUSA's executive director, sharing a message of pride and optimism for the organization's future. "We celebrate our differences," Travis said to the from-everywhere crowd, "but our mission unites us, as does the pride we share as members of this great organization."
The Opening Session keynote address was delivered by Snap-On Incorporated President and CEO Nick Pinchuk, who inspired the audience with a rousing tribute to skills and those who wield them. "We hold that our present society has advanced to its current culture through the hands, the minds and the hearts of working men and women," he said. "It is about the dignity of work. We are the guarantors of America's future."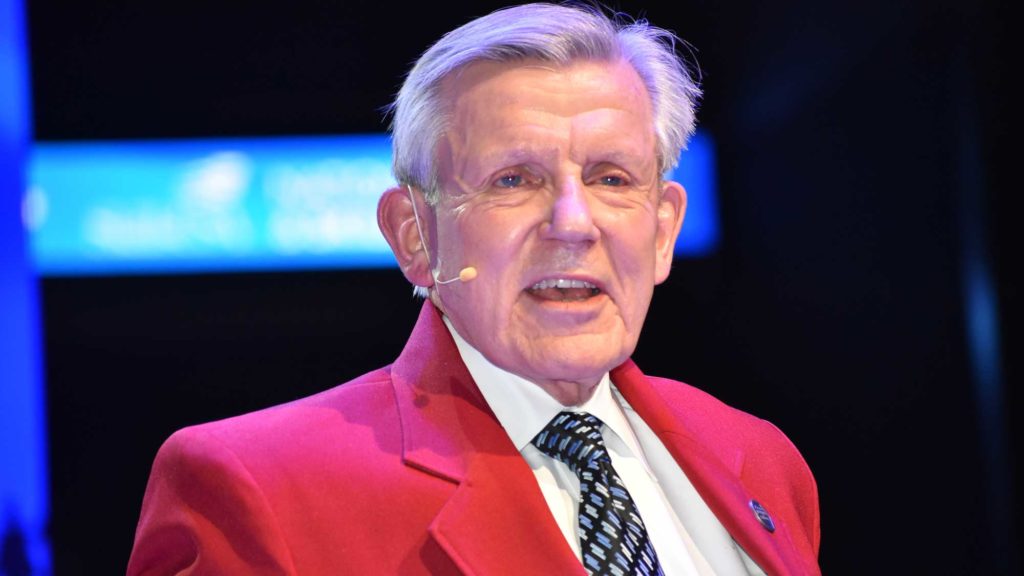 Throughout the week, delegate sessions for middle–school, high-school and college/postsecondary students were conducted, providing a platform to conduct the organization's official business and elect new national officers.
All attendees — including educators, advisors and administrators — were offered professional development opportunities and educational seminars with the Academy of Excellence and SkillsUSA University. Combined, the two programs offered 55 separate educational events.
SkillsUSA TECHSPO, the largest technical exposition in the nation, featured 159 exhibitors from industry and education, all of whom wanted to meet and interact with the nation's most highly skilled students. New this year was Wednesday's Recognition Session, where students, teachers and supporters were recognized for their leadership and dedication to SkillsUSA. That included the announcement of our Advisor of the Year, SkillsUSA New York's Kimberley Petronella. The night was capped off by an epic performance from superstar performer and hit-maker Flo Rida.
The week's headliner was the SkillsUSA Championships, where 5,055 state champions tested their already-powerful skills in 108 career competition events, from 3-D Animation to Prepared Speech to Welding … and just about everything in between. The Championships were held across three giant floors within the Georgia World Congress Center, covering 1.79 million square feet. That's a total of 31 football fields or 41 acres (take your pick)!
With the intensity of competitions behind them, students and attendees were able to relax and unwind at Thursday night's Champions Festival. Held in Centennial Olympic Park, the event featured outdoor games, music, food, fun … and fireworks!
Instead of sleeping in on Friday morning, nearly 600 SkillsUSA students applied their skills and commitment to give back to a service project designed to benefit the local community. As part of the "Build Skills. Do Good. Complete the Cycle" project, SkillsUSA members assembled 80 bicycles and presented them to local children from the John H. Harland Boys & Girls Club.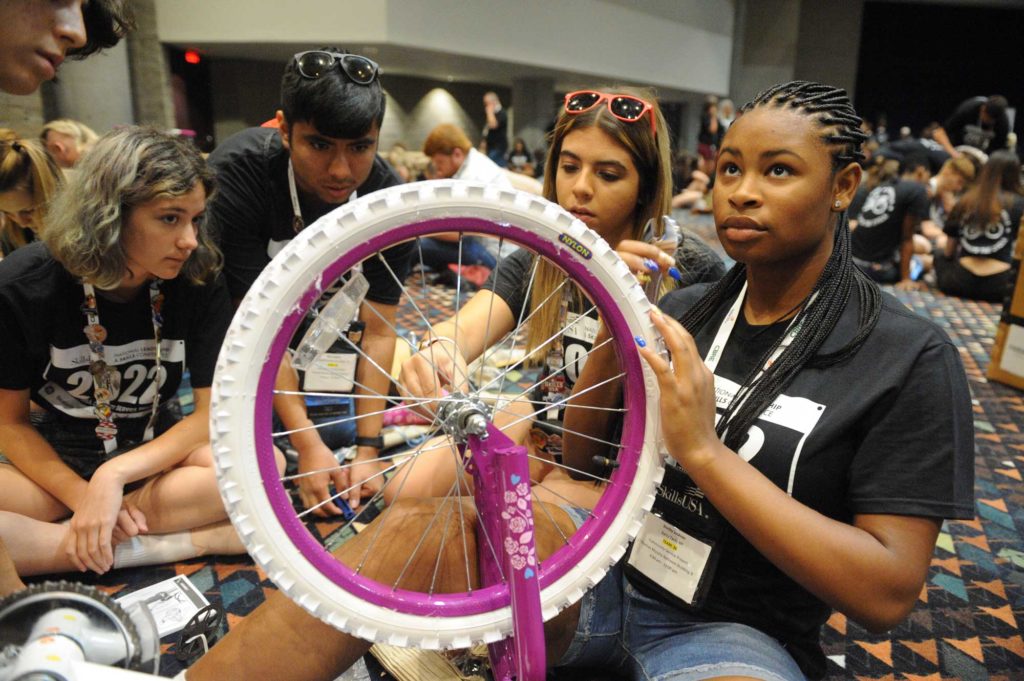 Friday evening brought the event so many had worked so hard and so long for: The Awards Session. HGTV personality Darren Keefe set the tone with his early remarks on the power of skills. "Just being here at SkillsUSA, you are seizing your potential," Keefe said to the packed State Farm Arena. "Each of you learned and improved your craft, and you not only fill a vital role in the economy and your communities, but you also set yourself up for endless possibilities."
Possibilities soon became realities as more than 1,150 gold, silver and bronze medals were awarded to our new national champions. The winning Models of Excellence chapters were also named, new national officers were announced, and the pride of accomplishment hung heavy in the air after one incredible week.
The 2022 NLSC had it all: pageantry, excitement, joy, pride, awe, inspiration and so much more. Thanks to our selfless volunteers, dedicated partners, incredible student and teacher members, association directors and everyone who made the 2022 NLSC the experience of a lifetime. It took longer than expected to get here, SkillsUSA Nation. But it's great to be back.