Photo by Alexis Pratts.
Growing up in Sylmar, Calif., Loretta Cabuyadao was the youngest of four to very supportive, hard-working parents. Her dad was involved in the motion picture industry and her mom was an executive assistant at a law firm. Cabuyadao remembers thinking she would go into film editing or become an attorney someday.
Things changed when Cabuyadao started her SkillsUSA journey in 10th grade at Sylmar High School in 1991. At her best friend's urging, she joined a wood shop class that also served as home for the school's SkillsUSA chapter.
While Cabuyadao enjoyed building things in the wood shop class, she began building her future through SkillsUSA, strengthening her leadership skills in Job Interview and Prepared Speech competitions.
After her first year, William Dingman — the school's graphic communications instructor — became the new SkillsUSA advisor, and Cabuyadao enrolled in his class. "The day I stepped into the print shop, everything changed," she remembers. "That's when the light bulbs just started going off for me, and I just wanted to know everything about everything in that class."
Cabuyadao spent every extra minute in the classroom, making things from invitations to T-shirts while using printing presses and other equipment. "Mr. Dingman would let me come into his class even when it wasn't my class time," she remembers gratefully. "He just fed my desire to learn, even giving me projects outside of his curriculum to explore. When I ran out of classes to take in graphics, he made me his teacher assistant. I just had to be in his class all the time."
Involved in SkillsUSA all four years of high school, Cabuyadao competed in Graphic Communications and Job Interview, winning a national gold medal at the SkillsUSA Championships her senior year in Job Interview. While the achievement was a great capstone on her high school SkillsUSA experience, it was just the beginning of more success to come.
Designing Her Future
After high school, Cabuyadao attended Moorpark College to study graphic communications. Since the college didn't have a SkillsUSA chapter, she started a new one and became a SkillsUSA California state officer. As a state officer, she traveled, made presentations and advocated for career and technical education at every opportunity. The experience only made her already-strong leadership skills even stronger. "It helped me learn to look others in the eye, have a conversation, listen to them, find out what their needs are and share my story," Cabuyadao says. "This experience helped me learn how to communicate with others."
Unsurprisingly, Cabuyadao worked part-time at a print shop in college. As fate would have it, she one day overheard a conversation about another print shop that was up for sale, and she immediately imagined herself as the new owner. Turning that fantasy into reality required a little more work; With a loan for a down payment from her parents, she approached the owner of the shop, Bob Little. Little had planned to sell to another print shop owner, but he was so impressed with Cabuyadao's communication skills, fortitude, and business acumen that he changed his mind. "Incredibly," Cabuyadao recalls, "at the age of 19, I became an entrepreneur."
Cabuyadao credits her SkillsUSA experiences and training for giving her the communication skills and self-confidence to reach for her dreams and make that offer. "During high school, I completed [SkillsUSA's leadership curriculum], which helped me with my leadership skills. As a state officer, I was put in situations all the time where I had to meet with adults and communicate with them. SkillsUSA helped me prepare for life and be mature enough to take on owning and running a business."
While those skills had impressed Little enough to sell Cabuyadao his business, her influence didn't end there. "Interestingly, he went back to teaching after leaving the business," Cabuyadao says proudly. "He was so impressed with everything I told him about SkillsUSA that he started a new SkillsUSA chapter at his occupational center."
Living the Dream
That first year of owning Kopy King was a blur of big life changes. Cabuyadao got married and had her first child. "It was a big year, but we made it all work," she says. "I've always remembered what my SkillsUSA advisor's advice to me was when I was nervous and not confident in a situation. He said, 'When in doubt, make it sound convincing.' That's advice I use to this day."
Cabuyadao didn't have to pretend very often. She quickly made Kopy King a respected business in her local community. She worked with scout troops, school PTAs, churches, and sports organizations on projects of all sizes — always with exceptional service and quality. As she'd done in college, she also kept her ears open for new opportunities.
One of those opportunities arrived when news came that the local post office would be closing. Cabuyadao and her husband Philip — who was now running the business alongside her — stepped into the vacancy by transforming a portion of Kopy King into a neighborhood post office. This not only provided an invaluable service to the community, but it also helped expand her customer base. As neighbors came to her shop for mail services and experienced their exceptional customer service, they inevitably became regulars at Kopy King.
Today, Kopy King is a printing powerhouse, and Cabuyadao identifies three keys to that success: building connections founded on trust, being part of the community, and being an expert in the field. Receiving the "Business Person of the Year" in 2020 from the Simi Valley Chamber of Commerce confirmed the effectiveness of that strategy.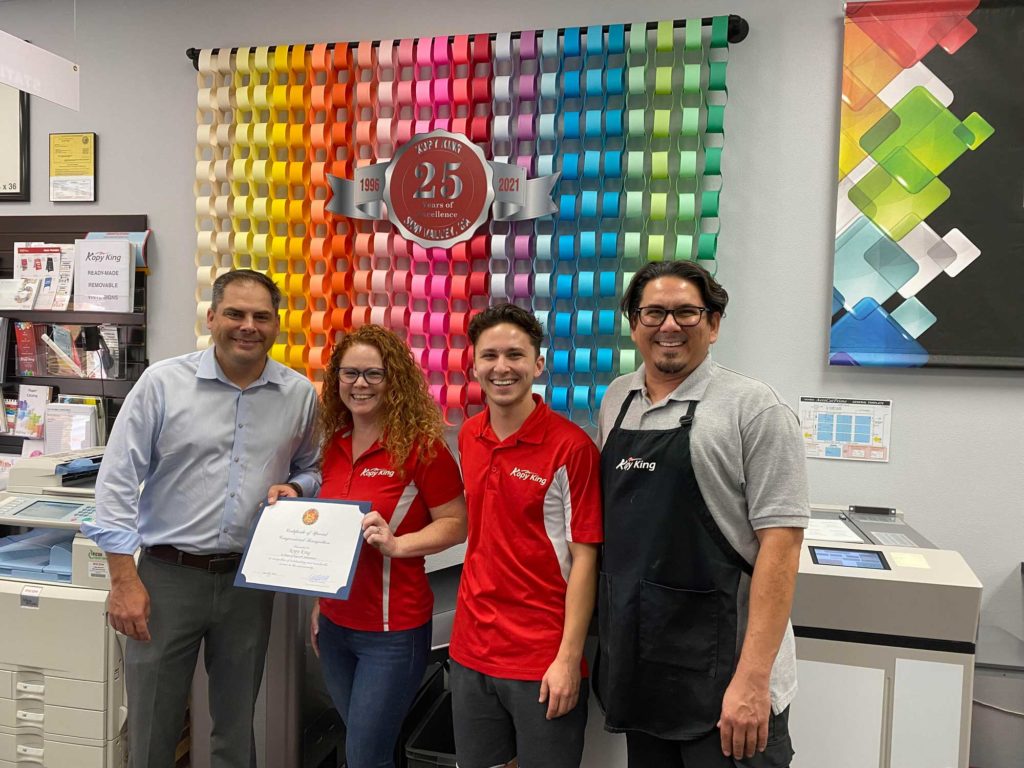 Back to Basics
Despite her success, Cabuyadao began realizing that she was missing something: SkillsUSA. She started looking for opportunities to get reacquainted with the organization that had done so much for her. She volunteered to judge a regional competition, and then SkillsUSA California Director Clay Mitchell asked her to help at his State Leadership & Skills Conference. In typical fashion for Cabuyadao, she kept achieving more, including an Alumni of the Year award for California, winning the state's Pin Design competition, becoming SkillsUSA California's membership and chapter coordinator and, most recently, becoming the assistant state director for the association.
As far as Kopy King goes, Cabuyadao's husband and son have taken over the general operations of the store, but Cabuyadao still handles background work and hiring, duties informed by her SkillsUSA experience. "I use the essential skills of the SkillsUSA Framework in my hiring practices at the store," she says. "I try to discover a person's strength within the Framework in the interview. If they come in with basic skills in graphic arts, I can train them to do almost anything. But I need them to have the other attributes, like showing up regularly to work and the rest."
Cabuyadao now has the best of both worlds: still benefiting from the lessons learned from SkillsUSA as a student while helping new students find their own paths to success through the same organization. "I just feel like I always need to have students in my life," she says. "SkillsUSA is the perfect conduit for that because I can help motivate and influence their choices. I ask them about their desired career, and we talk honestly about different ways they can be successful in that career. Does it include a four-year degree or higher … or not? Students often tell me that no one has ever had that conversation with them."
When asked what industry supporters gain from being involved in SkillsUSA, she says, "In my opinion, it's about the connection to the future of their trade. They feel personally responsible for helping to build the next generation, and they consider it a privilege to have influence over people who are going into their industry."
And what has Cabuyadao gained by getting involved with SkillsUSA again? "There is a lot of support for academics, and I want to see the same kind of fire for the skilled trades, because our society will cease to exist without them. I just want to be part of that fire."