Pictured from L-R: Landen Ayers, Bethel HS Senior, Carpentry, Joseph Mason, Strother HS Graduate, Electrical Trades, Travis Woolsey, Strother HS Graduate, Electrical Trades, Brady Brown, Seminole Charter HS Senior, Carpentry, Grant Schallhorn, Adult Carpentry, Gracin Arthur, North Rock Creek HS Senior, Electrical Trades, Brett Mingo, Meeker HS Graduate, Electrical Trades and Kaden Chapman, Adult Carpentry, SkillsUSA State Officer. Photo provided courtesy of Gordon Cooper Technology Center.
Most electrical, carpentry and HVAC (heating, ventilation and air-conditioning) students fully understand the value of their skills, but it's doubtful that many ever imagine using those skills to help fight crime. Students in those programs at the Gordon Cooper Technology Center (GCTC) in Shawnee, Okla., don't have to imagine; when they used their skills to support their local Pottawatomie County Sheriff's Office, they were effectively contributing to the safety of their community while gaining a tremendous level of real-world work experience.
The project began in September 2021 when the sheriff's department asked Darrell Frerichs — GCTC's electrical trades instructor and SkillsUSA advisor — if the school would be interested in a community service project to remodel an important training area at police headquarters. "I asked the students and they jumped at the opportunity," says Frerichs. "This type of community service project places the students in a real workplace environment, giving them leadership and ownership of a project, doing what they have been trained for. You can't duplicate this type of experience in a classroom."
As the work began on this multi-faceted project, students demonstrated a thorough understanding of some of the SkillsUSA Framework Essential Elements, including Professional Development; Service Orientation; Planning, Organization and Management and more.
Each trade area program designated a team lead who created a calendar and ensured the students within their program completed their tasks on time, within budget and according to industry standards. "The planning, organizing and management of this student-run effort was exemplary," says Frerichs. "Not only did the team leads manage scheduling and coordinate details within their programs, but they delegated responsibility to each participating member."
The carpentry students removed old cabinets and fixtures while framing new walls for the redesigned training area. They also installed sheetrock, taped and mudded the walls, and painted the room. The electrical students installed LED lights; replaced electrical outlets and wiring; and installed switches, receptacles and faceplates. The HVAC students moved some ductwork, removed light fixtures and moved and replaced thermostats.
The whole project was documented by the graphic design students who, at the end of the project, sent a customer satisfaction survey to the facility director and class instructors. The responses indicated the students were timely and professional in their work.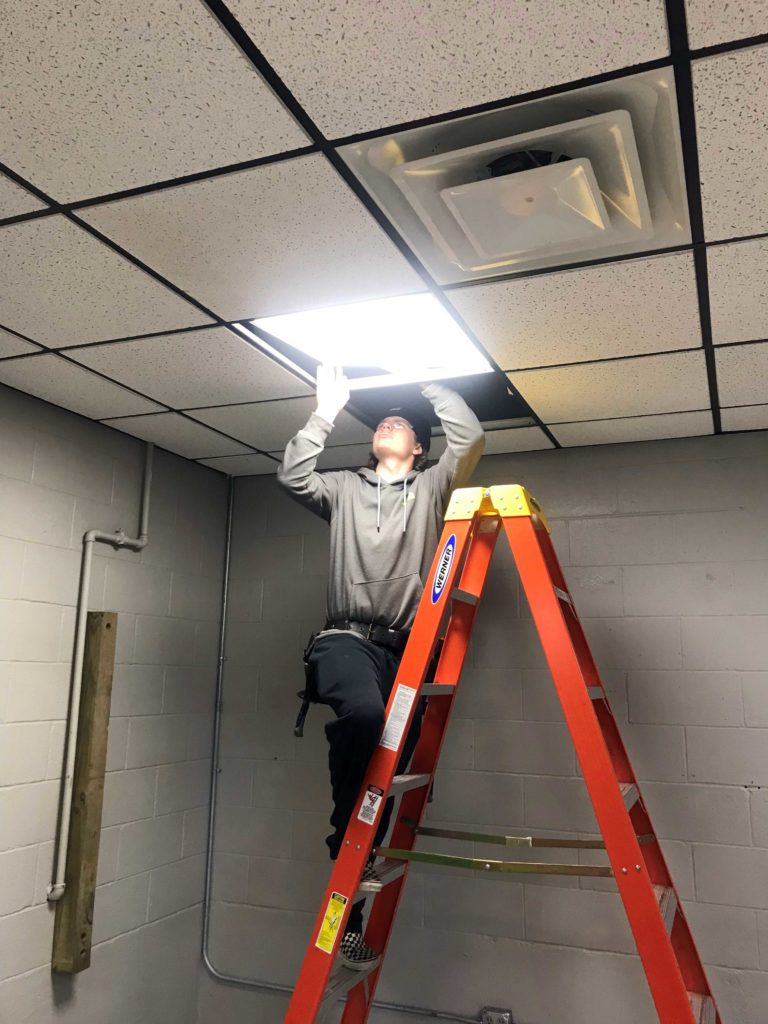 The students learned to problem-solve and handle pressures of time management and budgeting, including estimating the material and time expenses for the work. "I feel like the skills I learned in the electrical program and by working on this project helped me prepare for the workplace," says senior Gracin Arthur. "It was nice to put my skills to use in the real world," senior Landen Ayers chimes in. "The project opened my eyes to all the planning, organizing and management that goes into a real renovation."
The students coordinated with each other and with the sheriff's department during each phase of the removal. Because of their structured approach, they completed the project in just 100 days.
"Being a part of the project was a very eye-opening experience," says design senior Hannah Dearman. "I enjoy working on projects with others where I learn skills on how to better myself and my work."
"Being given the opportunity to help lead in this project has taught me so many things about leadership that I'll be able to apply in the workforce," part-time adult carpentry student James Thorpe (the great grandson of Olympic gold medalist Jim Thorpe) added. "It was great to be in charge of the project from start to finish and figure out solutions to the problems we encountered."
"The estimated savings to the sheriff's department was at least $10,000 in labor costs for the 3,000-square-foot remodel," says Frerichs. "Nothing happens without teamwork, and these students certainly exhibited it," offers Jodie Eiland, carpentry and masonry trades instructor. HVAC instructor Tim Breeding agrees, adding, "I feel that nothing in the classroom can replace real-life experiences."
The project earned GCTC a gold-level "Chapter of Distinction" award in the SkillsUSA Chapter Excellence Program. The school was named one of SkillsUSA's top 24 Models of Excellence programs for 2022 and was recognized at SkillsUSA's National Leadership & Skills Conference in Atlanta.