Chapter members (L-R, Olivia, Guilianna, Rebecca, Zariah, Miss H, Yarivia, Noor, Skye, Nevaeh, Allison, Vincent, Marley, Joseph, Edward, Ericeli, Sam, James, Juana, and Johnny.) pose with the care packages moments after they have all been finished. Photo courtesy of Cumberland County Technical Education Center.
The SkillsUSA chapter at Cumberland County Technical Education Center (CCTEC) in Vineland, N.J., made a big difference with their community service project this year by helping their local Center for Family Services stock a safe home for victims of domestic violence.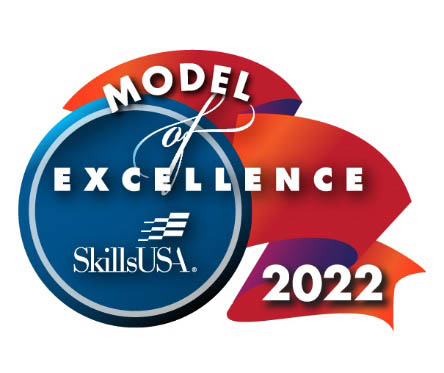 "Our SkillsUSA chapter project won a Models of Excellence award last year [part of SkillsUSA's Chapter Excellence Program], so the students were excited to try to win again," says chapter advisor Taylor Heaney. "They started brainstorming for project ideas during the summer, and when school began in the fall, the students came together and made a final decision to help the residents of the shelter."
The students began by reaching out to the Center for Family Services (CFS) to ask what items the residents needed most. Based on those recommendations, they decided to create personal care kits with items that were the most frequently requested. Students were careful to choose items that were inexpensive so more people could potentially donate.
"Domestic violence is a very important cause for me," says senior and SkillsUSA secretary Vincent Hitchner. "Being able to help and give back to this cause, especially within our community, made me happy."
A total of 45 SkillsUSA students participated in the project. They set a goal of creating 50 personal care kits to provide residents with enough items for about three months at the safe home. Helping during their lunch or free periods, students designed flyers, passed them out to the school, labeled boxes for the donations and delivered the items at the end of the drive.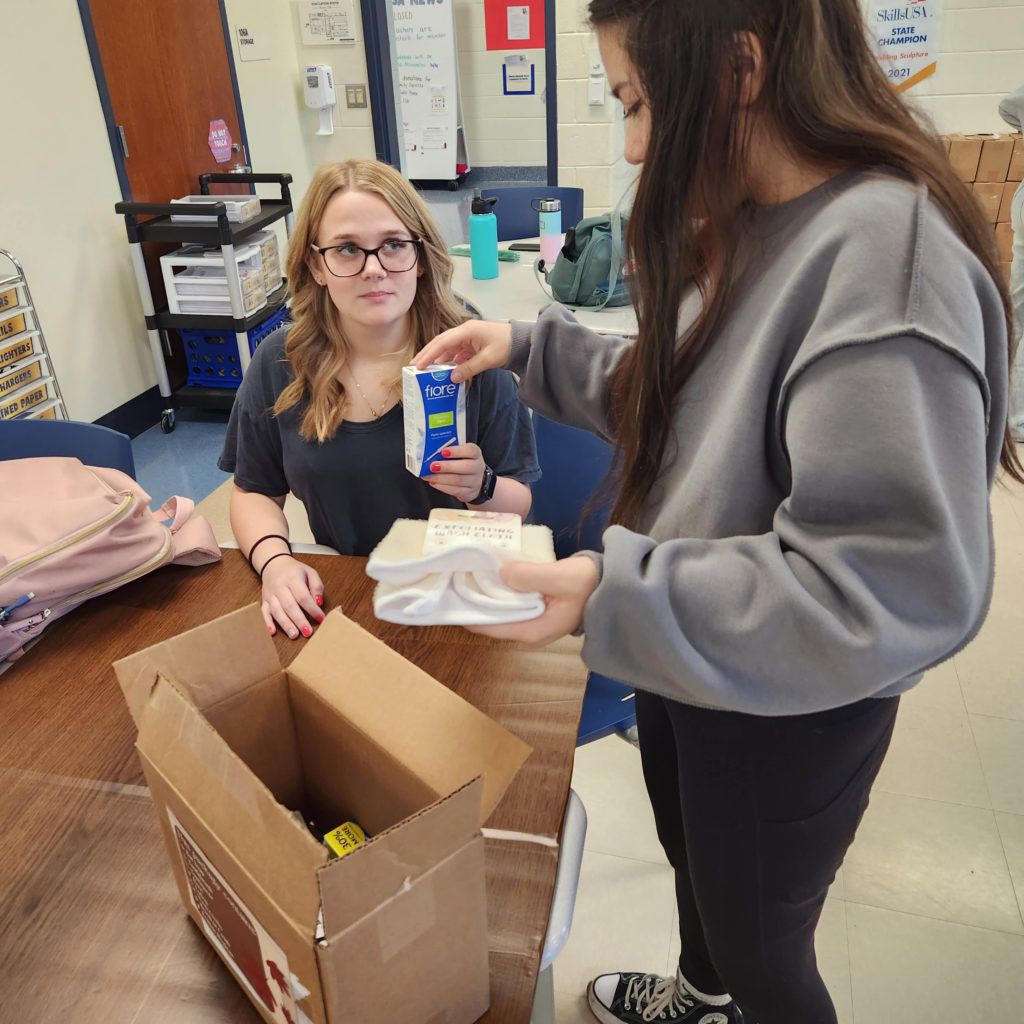 Within three months, CSF had received donations from more than 50 people, enough to create 86 adult kits and 10 child kits with more than 730 total items donated by students and staff. So many items were collected that CSF was able to give some of them to a neighboring safe home in nearby Gloucester County.
"It was a wonderful success," says Heaney. "The students worked so hard from beginning to end to ensure that this project was organized, accessible and complete to provide these in-demand items for the residents of the safe homes. They promoted this collection project so well that more donations were received than anticipated. This truly was a win for our community, built from the hard work of students who genuinely wanted to help."
"Working on this service project alongside other SkillsUSA members furthered my passion for serving the community and left me wanting to do more," says junior and SkillsUSA president Marley Gant. "I am so proud of our team for creating the care kits for the safe home and I am excited to see what we can accomplish next." Senior and SkillsUSA vice president Allison Dionisi added, "It's crucial for people to have access to essential items in times of need. I'm proud our team was able to give as much support as possible. It really made the three months of hard work worth it knowing that we surpassed our goal."
Heaney added, "Focusing on Personal Skills from the SkillsUSA Framework, specifically the Essential Element of Responsibility, the students demonstrated dependability, followed through on their commitments and worked together to contribute to the success of the project."
"This years' service project idea was great, because it gave students the opportunity to utilize organizational and leadership skills in a way that benefited individuals who really needed it," added CCTEC principal Greg McGraw. "It is moments like this that remind me how fortunate CCTEC is to have a SkillsUSA chapter. Watching the students develop technical skills while giving back to members of their own community is very rewarding."