Photo by Lloyd Wolf.
We asked Maureen Tholen of 3M what it means to see SkillsUSA on a resume. "I've had the benefit of seeing SkillsUSA students in action," she says. "I know that this person is likely to be dedicated and motivated, good at what it is they take on, and work in a safe and productive way. I see SkillsUSA students always trying to do their best."
Tholen is Vice President of Sustainability at 3M's headquarters in Saint Paul, Minn. In that role, she works with 3M's largest business group with a focus on safety. "My job is to increase the sustainability attributes of products 3M produces like abrasives, adhesives and personal protective equipment to reduce waste and make them easier and safer to use," she explains.
3M is the innovation powerhouse known for inventing products like Scotch® Tape, Command™ Hooks and Post-it® Notes — as well as iconic contributions to American history like the coating on the soles of the boots worn by astronaut Neil Armstrong that left the first human footprint on the moon. Today, more than 60,000 3M products are used in homes, businesses, schools and hospitals across the globe and the company has over 92,000 employees worldwide.
She "Had To Go See SkillsUSA" in Action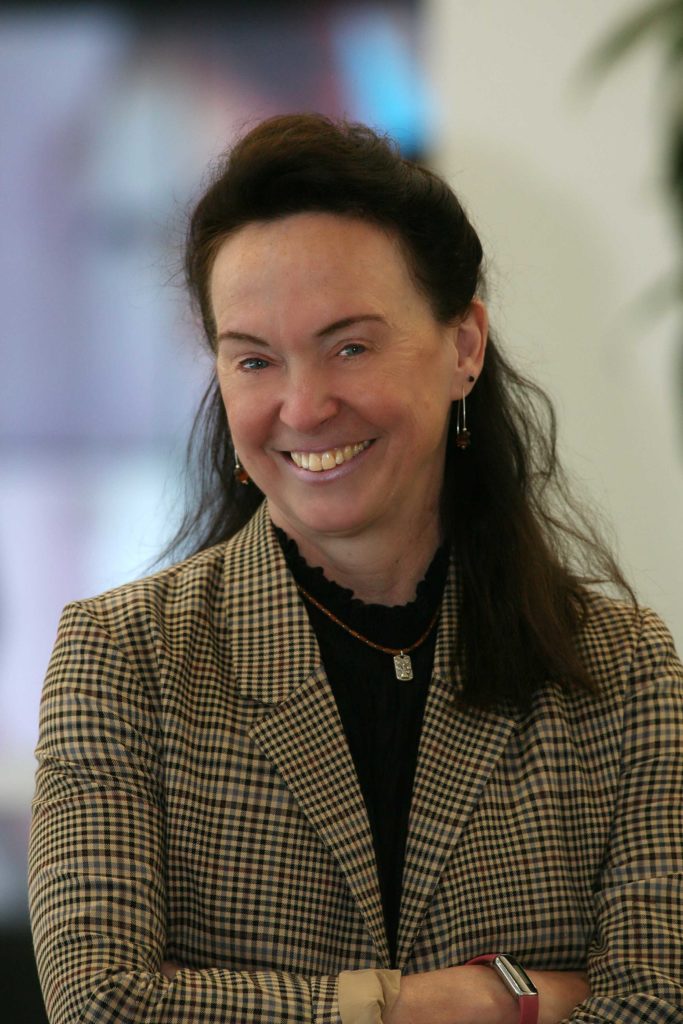 Tholen has another invaluable role as the president of the SkillsUSA Board of Directors, leading organizational strategy and serving on the SkillsUSA Diversity, Inclusion and Equity workgroup. Previously, Tholen was also the chairperson of the SkillsUSA Foundation. How did she grow her career at 3M and why does she feel so strongly about supporting SkillsUSA?
Years ago, Tholen overheard a colleague talking about SkillsUSA. He served as a collision repair judge at the SkillsUSA Championships for a number of years and was an enthusiastic fan of the organization's work. "After talking with him, my colleagues and I googled SkillsUSA for ourselves and decided we should go see what it was all about," explains Tholen. They attended the SkillsUSA National Leadership & Skills Conference in Louisville, Ky., walked through the competitions and SkillsUSA TECHSPO and were simply amazed. "It was a massive event with a buzz of activity," says Tholen. "We saw carpentry, plumbing and electrical competitions, and we quickly realized 3M makes products that go into all of these applications."
The fit was natural because 3M — just like SkillsUSA — covers dozens of occupational areas. "I don't know of another organization as broad as SkillsUSA that reaches students in so many different areas," Tholen continued. "Supporting SkillsUSA is a good way for 3M — a science-based, materials-oriented company that engages people who make cars, airplanes, appliances, buildings — to connect with the youth coming into the workforce. These students are our future customers. They'll run businesses and make purchasing decisions, or they're going to be an employee and remember that they've used products made by 3M," she added.
3M's support of SkillsUSA began in 1982 and grew over the years. In 2019, the company was the lead sponsor of the WorldSkills USA team, and even hosted training at the 3M headquarters in March 2019 for the largest WorldSkills USA team ever — 22 competitors plus their technical experts as they prepared for WorldSkills in Kazan, Russia, on Aug. 22-27, 2019. 3M has been an Official Partner of SkillsUSA for years and is also a Global Premium Partner of WorldSkills.
So where was Tholen before her impressive 3M career began? She was a high school student with dreams of being an engineer. Always intrigued by science, Tholen grew up in Erie, Pa. where her favorite class was chemistry. Becoming a chemical engineer seemed like a logical next step. She attended the University of Notre Dame and earned her Bachelor of Science degree in chemical engineering. However, as she finished college and sought employment, she realized most chemical engineering jobs start in a manufacturing plant, but her preference was a lab environment. When 3M was hiring for their headquarters in Minnesota, it seemed like a perfect fit and it has been to this day.
A Passion for People
Tholen's career at 3M began as a technical service engineer, work that fostered a passion for putting customers first. 3M's size and diversity provided many opportunities for future roles in marketing, business development, sales management, strategic planning, commercialization leadership and general management. Today, she leads the "Science for Climate" sustainability pillar for 3M at the enterprise level; serves in an advisory role for 3M Women's Leadership Forum supporting leadership development; and is the Inclusion Champion for the Safety & Industrial Business Group. Tholen also serves on the CEO Inclusion Council to lead efforts for inclusion of all employees. In 2021, 3M set a carbon neutrality goal for the company and plans to reduce their greenhouse gas emissions of operations to neutral by 2050. Tholen says she is excited to be helping with this effort as well.
Never one to stop, Tholen serves as a point person for 3M's involvement in SkillsUSA as well as WorldSkills and NC3 (National Coalition of Certification Centers). This forward-thinking strategic leader is happy to make a difference in the lives of others. Now, 37 years and many work roles later, Tholen leads sustainability efforts in a $12B+ business group at 3M, and guides strategy in her volunteer role as SkillsUSA's board president for the 20-member business and education advisory board that meets quarterly to support the mission of the organization.
"3M works closely with SkillsUSA to determine how we can find synergy between our objectives, and we're grateful for their ongoing support," says SkillsUSA Executive Director Chelle Travis. "Our goal of delivering a quality, diverse talent pipeline is accelerated with the support of individuals like Maureen Tholen. She is not only a valued partner but also someone working to mentor the next generation of skilled workers."
Tholen is married, has an adult son and daughter, and she practices sustainability in her personal life, too. In fact, Tholen lives in a home her family built over a decade ago where they strive to live in a "net zero" fashion, including 21 solar panels they installed on the roof to help conserve energy.
Tholen sums up her work at 3M and her support of SkillsUSA saying she is glad she has reached a career threshold where she can pay it forward. "I'm at a point in my life where I realize how fortunate I've been and I really enjoy giving back now," she explains. "All it takes is to open a door for someone to make a lasting impact on their life. Then that person will hopefully do that for someone else down the road."