Pictured from L-R: Sydney Schwenkbeck; Kathy Nowakowski from the Heart of Niagara Animal Shelter; Alanah Harris; and Ethe Hemphill. Photo courtesy of Niagara Career and Technical Education Center.
Earlier this year, three SkillsUSA students from the Animal Science program at the Niagara Career and Technical Education Center (NCTEC) in Sanborn, N.Y., made some dog treats for two local shelters.
The idea was sparked when SkillsUSA advisor Seth Muck (who also teaches animal science at NCTEC) discovered a recipe for dog treats that he shared with his class. The students were already discussing what type of community service project they'd perform for the year, and seniors Ethe Hemphill, Alanah Harris and Sydney Schwenkbeck suggested the chapter make the treats for local dog shelters.
"We wanted a project that was not too costly but would benefit dogs who are looking for forever home," Hemphill explains. "These dogs are in cages most of the day, and we wanted to give them some comfort and something that would make them happy. We also thought it would be a good way for staff and potential new families to bond with them by giving them a treat."
"I was so proud that these students took the initiative for this project," says Muck.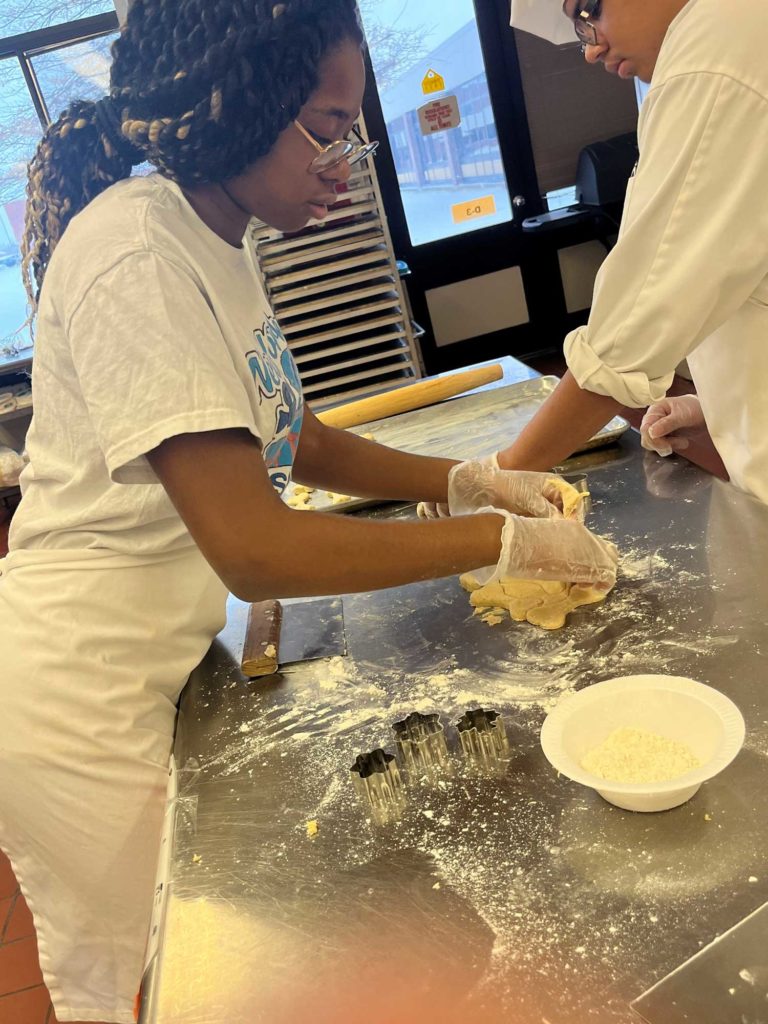 The students first contacted one of the school's food service teachers, Jessica Kronenberg, to see if she could help. "She was all in," Hemphill exclaims. After looking into the local dog shelters, students decided to provide their treats to two local shelters: "Save A Pet" in Newfane and "Heart of Niagara" in Lockport. "We were very impressed with how well they both take care of their animals, so that is why we chose them," Hemphill explains. "Unfortunately, a lot of shelters don't get the resources they need, and both organizations were very happy that we wanted to do this."
The three students then joined forces with Kronenberg's class to make the treats. "It took us about three hours over two days to make about 100 dog treats," says Schwenkbeck. "We made all different size treats for different sized dogs, and when we were finished, we had two boxes filled with labeled dog treat bags which we delivered to the shelters."
"We were thrilled to be able to help out with such a worthy cause," Kronenberg adds. "These students are obviously very dedicated to their community service project, and it was a great joint effort."
"The Heart of Niagara and all our rescued companions wish to thank the students from Niagara CTE Center for the donation of freshly made biscuits," says Kathy Nowakowski, managing director for Heart of Niagara. "We appreciate them thinking of us and taking the time to bring a special treat to our rescues while they wait for their forever homes." Save A Pet Shelter dog officer Jane Wiech adds, "We are grateful for the treats, and our dogs sure appreciated them, too."
Bone Appétit!