L to R: "Grit Leads to Greatness" readers: Michele Gale; Alison Cornish and Scott Peggy from Parkside High School, Md. Photo courtesy of Delmarva Veteran Builders.
Inspired by their favorite childhood characters and superheroes, Chris Eccleston and Jenny Kerr Schroen decided to write a children's book encouraging younger students to the learn about and appreciate the construction industry. Eccleston is the president and founder of Delmarva Veteran Builders in Salisbury, Md., and Schroen is the company's creative developer. While their book — "Grit Leads to Greatness" — is set in a superhero-influenced fantasy world, the desire to write it was fueled by something very real: the skills gap threatening the futures of a variety of industries, including construction.
According to Eccleston, though, companies like his aren't the only ones who should be concerned. "The construction labor gap in this country impacts everyday people," he says. "Housing prices have gone up, but affordability has not, and I believe this is directly tied to the labor gap."
Ever the optimist, though, Eccleston sees the moment as an opportunity for positive change. "The way I see it, the construction industry has a huge competitive advantage because of our workforce crisis," he says. "The shortage in skilled labor has given us a moment in history for our existing workforce to come together like never before. We [the construction industry] need to teach, share and pass the torch on to the next generation."
"Grit Leads to Greatness" is designed to help do just that. It's a story about a brother and sister team living in a dying city. Citizens have become hypnotized by glowing stones, and the city's infrastructure has slowly crumbled from neglect. The sibling duo embarks on a quest to find out why … and what they can do about it. Their adventures lead them through different skilled trade areas, each represented by a different hero.
Mason the Mason — an intelligent ogre — helps the siblings build a retaining wall. They also meet a carpenter named Rowan who helps them rebuild a school after a storm. Next, they help Arc the Welder finish a bridge, then Copper the Plumber and Syphon step in to help them fix a severed pipe. Finally, the Electrician Magician restores light to a dark tunnel. In the end, with the city returned to its former glory, the siblings are treated as heroes themselves.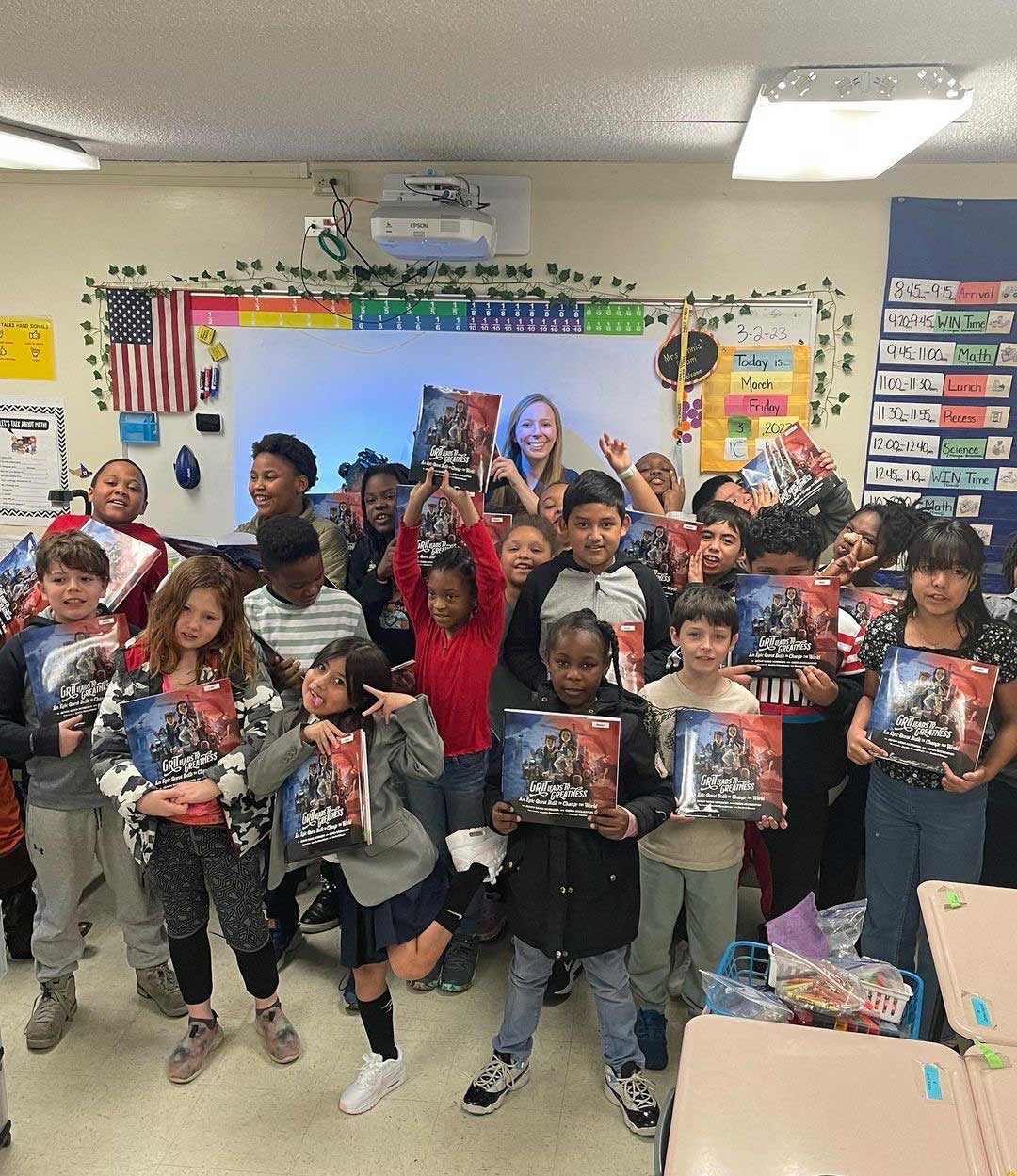 "The story is both inspirational and aspirational," says Schroen. "I think young people love construction and working with their hands, and then, as they get older, they are taught that it isn't what they should do [for a career]. But building or fixing something can make you feel great. You can look at it when you are finished and be proud of your accomplishment."
The authors — and some of their characters — are committed to spreading the word. In March, Eccleston and Schroen — along with live costumed characters Mason the Mason and Copper the Plumber — visited five elementary schools and a total of nearly 1,500 students during Read Across America Week. Construction became heroic as children in grades 2-5 received a copy of the book and members of the local construction industry read it aloud to them. "We hope the idea catches fire and more people across the country read this book to their local elementary school students," says Schroen. "We believe this could help young people and their parents to start to think about construction in a new light as a profession that's heroic, valued and honored."
The book will be available on Amazon this summer. Visit the Grit Leads to Greatness website to learn more.