Photo courtesy of Valley Academy for Career and Technology Education.
If you're new to SkillsUSA (or need a refresher), the SkillsUSA Framework is the foundation for all SkillsUSA educational programs, resources and products. It's composed of three equally valuable components: Personal Skills, Workplace Skills and Technical Skills Grounded in Academics. Divided among those three main areas are 17 specific skills — called "Essential Elements" — that help define each component.
Each spring, as part of SkillsUSA's Chapter Excellence Program (CEP), 24 schools are recognized for exemplifying Framework excellence. From those 24, three (each representing one of the three Framework components) are selected as "Models of Excellence" chapters during SkillsUSA's National Leadership & Skills Conference in June.
The 24 for 2022 will be announced soon. In the meantime, let's look back at these 2021 "supermodels," representing South Carolina, Arizona and Georgia. While their projects were designed to address specific community needs, any SkillsUSA chapter — from anywhere — can learn much from their methods.
Personal Skills: Taking Responsibility for Their Community
How do 36 SkillsUSA South Carolina students lift up others while providing smiles to grateful faces? Hard work, creativity, encouragement, a lot of heart and a drive to succeed — in spite of being in the middle of a pandemic.
That's just how SkillsUSA students from the Center for Advanced Technical Studies (CATS) in Chapin, S.C., became a Model of Excellence in the Personal Skills component of the Framework. Guided by advisor Joe Chapman (SkillsUSA's 2020 Advisor of the Year), the students developed a three-pronged project that delivered toys to children at Prisma Health Children's Hospital (PHCH), provided lunches to their families and recognized PHCH workers.
Because of COVID-19 protocols, children at PHCH could no longer share items like toys, coloring books, crayons and movies, so individual items were needed. After receiving a list of what the children would like best, the students created an Amazon wish list to share with potential donors.
Their fundraising efforts yielded more than $1,000 in toys and gifts. "We purchased quality items," says Chapman. "After packing them in boxes by age groups, a small group of us took them to the hospital and left the gifts with the nurses, but we could all visualize the happy faces."
Students in the school's culinary program also contributed 10 fruit baskets with thank-you cards for hospital staff. Those were delivered along with the toys.
The third part of the project involved feeding the children's families through the local Ronald McDonald House Charities' "Pack-a-Smile" program.
"The hospital needs 450 lunches a week," says Chapman, "so the chapter made it their goal to purchase and pack that many. Students got the word out, and, in record time, we received enough donations of food and money for the lunches to include an entrée, sides, a dessert and a bottled water in each one."
To prepare and bag the meals, students, teachers and staff created an assembly line in the school's multi-purpose room while following pandemic protocols for social distancing, masking and cleanliness. Chapter officers then made the delivery, and their efforts were featured on a local news broadcast.
"We were all so happy that even during a year where so many things were bleak due to COVID, so many people were able to accomplish something like this," says Brooklyn Sanders, president of the CATS SkillsUSA chapter.
"Because of the pandemic, I believe it is so important for people to still feel a part of their community," adds chapter treasurer Jackson Houston, "and this was just one little way we were able to do that."
While the project hit a variety of the Essential Elements for Personal Skills, "responsibility" resonates most with Chapman.
"Students that are responsible tend to be good communicators, have a strong work ethic, work well on a team and have good technical skills, because they pay attention," he says. "Consequently, their grades are higher, so I really push the importance of responsibility in everything we do."
Workplace Skills: Their Well Runs Deep
When students at the Valley Academy for Career and Technology Education (VACTE) in Cottonwood, Ariz., were asked to use their skills to protect a local water supply, they burst into action.
The students were tasked with building a well house to help keep the water flowing at the Camp Verde Arena Association (CVAA), an 80-acre community-based horse and livestock arena. The insulated 12′ X 12′ structure would be designed to protect electronics and pressure tanks from the weather.
To handle the assignment, the chapter relied on the Essential Elements of planning, organizing and management; teamwork; and communication. Those skills were needed to handle everything from structural design to materials procurement, all while adhering to a set timeframe.
SkillsUSA advisor Travis Black, a former carpenter, recognizes the team effort it took to get the job done. "Student members met with CVAA board representatives to discuss design ideas and a timeline for project completion," Black says. "Chapter officers assigned project committees to address various phases of construction and to oversee budgets, materials and fabrication details. The chapter also worked with industry training and credentialing organizations for members to attain scissor-lift operator certification."
Approximately 30 students took part in the project, which gave them valuable opportunities to develop their hands-on skills … and so much more.
"This project helped me see that working isn't just about making money," says senior Quintin O'Grady. "It taught me that the work I do can have a great impact on the community around me and that I can do my part to help others through my work ."
For Black, the project was one more example of the impressive results he's seen — for both his students and him — since getting involved in SkillsUSA's Chapter Excellence Program (CEP) four years ago. "I've watched my chapters grow by leaps and bounds by implementing it," he affirms. "Just to watch them not only learn about the SkillsUSA Framework, but also to tie the CEP and the activities together, has helped set my students up for success in the future. It helps them look at the projects, refer it back to the Framework and evaluate to see if any improvements could be made."
Technical Skills: Ready for Their Close-ups
When automotive and cosmetology students at Forsyth Central High School in Cumming, Ga., wanted to promote their programs, they turned to their school's audiovisual program for help. The result was some strong bonding between programs, some great promotional videos, and a national Models of Excellence award in the Technical Skills Framework component.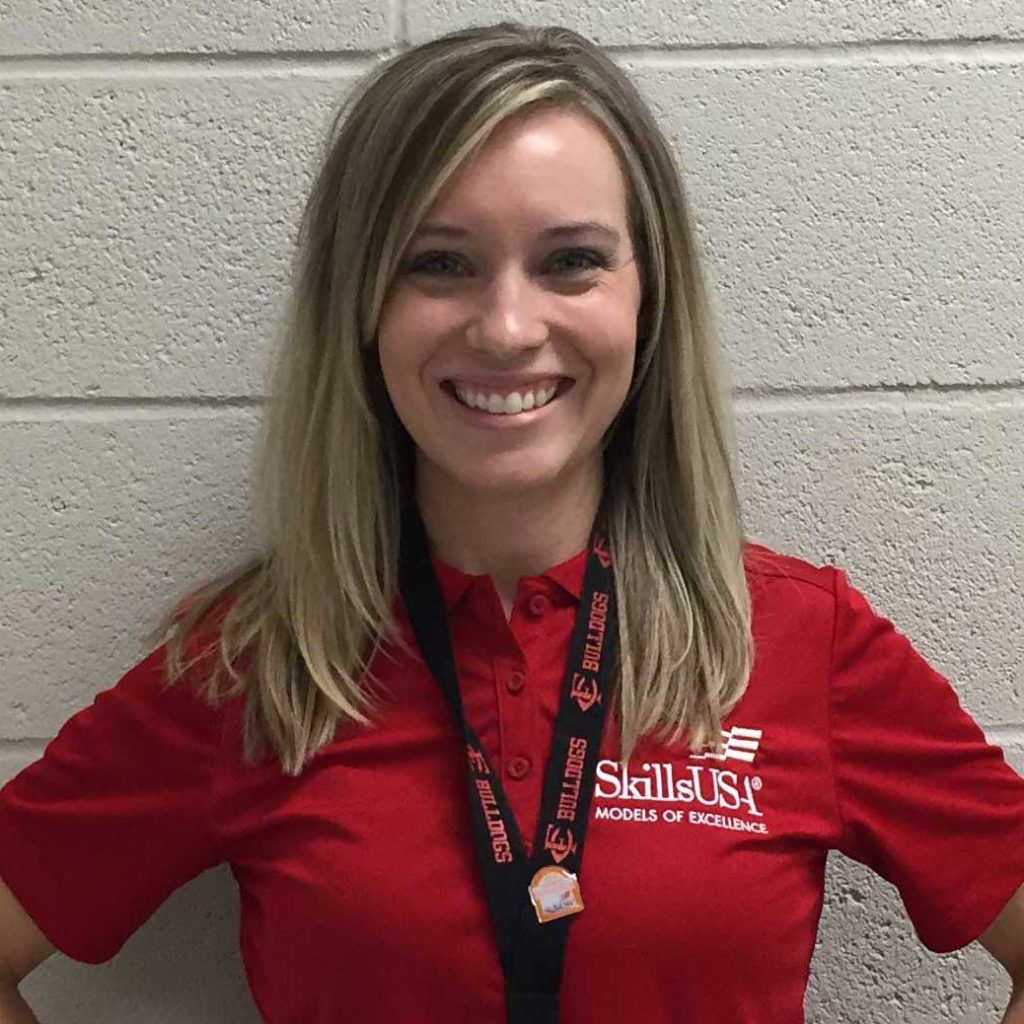 Audiovisual students created promotional videos for the two programs as well as themselves. First, they developed a timeline for filming and editing each video, focusing on key skill sets within each technical area. SkillsUSA advisor and cosmetology instructor Ashley Mallalieu supervised the project. "The students really did all of the work," Mallalieu says. "They wanted to bring awareness of their programs to the feeder schools, because students weren't visiting in-person during the pandemic. This was a way to reach out to them."
The automotive program dismantled a 2003 Chevy Cavalier for their video, showing the correct tools and procedures for disassembling a car and preparing it for scrap. "We showed how to use the appropriate tools and the safe ways to take it apart," says junior Tiffany Meeks. "Being a part of this program has brought so much opportunity to each of us." See the automotive video here.
The cosmetology program demonstrated some new and innovative hair-coloring techniques. "We wanted to do something trendy," says senior Laila Villeda. "Being chosen as a national Model of Excellence chapter opened everyone's eyes. I know that everyone worked hard, and it felt amazing to be recognized." See the cosmetology video here:
The audiovisual program created their video using footage of their students editing the other videos. "This project brought the three program areas closer together," says senior audiovisual student Delaney Willits. "It allowed us to learn more about each pathway and bring more respect to our peers." See the audiovisual video here.
"I am so proud of the hard work and dedication our students showed," Mallalieu says. "Not only did students demonstrate important industry skills, but now the chapter has custom videos to promote their programs!"
For Mallalieu, the project is also confirmation of the SkillsUSA Framework's effectiveness in curriculum integration. "There are four other SkillsUSA advisors at our school, and when we plan our Program of Work, we all look at the Framework and the Essential Elements," she says. "SkillsUSA is integral in our classes."
---
Congratulations to these three Models of Excellence for their dedication to their communities and each other. Look for the 24 finalists for the 2022 Models of Excellence awards soon. The top three winners will be announced at our National Leadership & Skills Conference in Atlanta this June.
To learn more about the Chapter Excellence Program and how to get involved, visit the website.